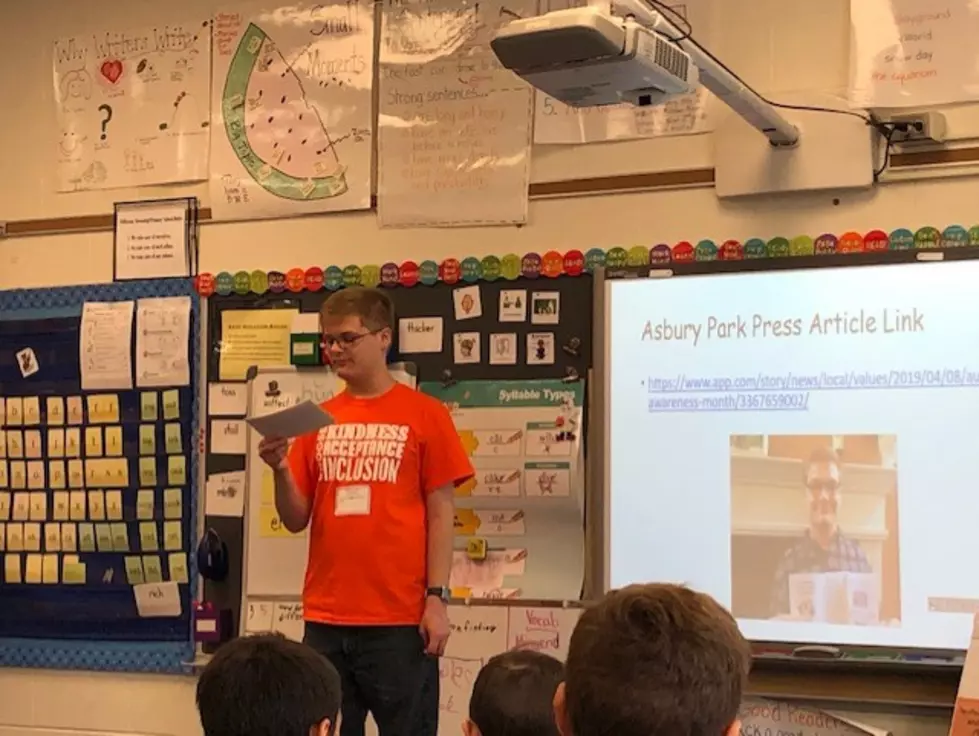 Millstone Boy Was Bullied; Here's What He Did About It
(Photo courtesy of Amy Rohrer)
Meet Amy and her amazing young-adult son, Timothy Rohrer. Tim is hoping to change the world with his message about autism, the importance of being included, and making friends is spreading far and wide.
Any Rohrer is the proud mom of a son who wants other kids who get bullied, ignored and ostracized to overcome those odds. He's got a message for public school officials, teachers, parents, young adults, teens, and kids.
Amy says, "I am extremely proud of my son, 20-year old Tim, who has autism.  Growing up with autism was not easy. He struggled academically but the hardest thing Tim will tell you is how it felt to be socially excluded by his peers because of his disability.
High school was the most difficult time for him, spending lunches alone, sitting home on weekends and having kids give him the wrong number or tell him excuses when he asked if he could hang out with them. Tim made many efforts asking for this to change, even talking to school administration, but found it hard to be heard.
He graduated high school in June 2018 and continued to want to make changes not only for himself but for anyone struggling with a disability."
So Tim wrote a guide he called " How To Be a Good Influence to People with Disabilities." and has created a website he calls Tips4Inclusion. On it you will find his guide and many other resources he has created including tips for tweens, teens and beyond.
Tim has created school assemblies for all ages. He has even had the opportunity to speak in the schools he went to growing up and some others within the district including the same high school that he had once felt so isolated in.
His mom says, "Every time my son speaks his audience, no matter what the age, is is inspired and captivated.  One of the best parts of his assemblies it the question and answer sessions after.  He is able to reach children with genuine heartfelt answers that can leave a lasting impression on all.  He brings tears to my eyes when I watch him speak, he truly amazes me with how brave he is."
But that's not all. Here are just a small sample of what Tim has managed to accomplish:
-- He was asked to be the opening speaker at last fall's Monmouth County Division of Mental Health Conference. After he spoke, the director said it was no doubt Tim was going to be the one to change the world.
-- In  November, Tim was a speaker for the NJ Association of Community Providers and once again his audience was captivated and many adults with disabilities who attended came to Tim to thank him for being their voice.
-- Tim has received a commendation certificate for his work from the NJ state assemblyman. He has even made his way all the way to the top of the public school chain, speaking at the NJ Dept. of Education to all the county executive superintendents this past January.
-- Tim is a guest writer for " My Community Source" and has written many articles about disabilities and inclusion.
-- This past year, the NJ Coalition of Inclusive Education (which has published his guide) brought him onto their team and a consultant and speaker to NJ Schools. Their goal is to get him into as many schools as possible to spread his message of inclusion.. And now his work is being made by the NJCIE into disability inclusion lesson plans.
Tim's work has gone on to be seen all over the world, with emails pouring in from others asking if they can use Tim's guide and advice. One woman in Latvia asked if she could translate his guide to their language to use in schools there and use his ideas in a film about kids with disabilities.
Things just kept getting better for Tim. He joined a young adult youth group that shares in the joy of his work and has offered him the friendships he always desired.
Amy says ,"There is so much more than even this list, but the point is that my son has made me so proud and accomplished more then I ever dreamed of.  He has more courage then anyone I know and is truly my hero.  Tim will tell you his dream is to be the next Martin Luther King but for people with disabilities, he is truly starting to live that dream."
What's Tim's latest project? He is now working on a children's book about autism and friendship. His mom says, "After years of raising Tim and worrying about his future, I now proud to say not only has he persevered he is truly making a difference in the world.  We hope he can will be able to speak in many more places to share his story.  Tim doesn't want anyone else to have to experience what he did and school and his story has already touched so many lives."
Thank you, Tim, on behalf of all of us who have had children who were ignored, excluded, bullied and have suffered tremendously in school and life. May your message become a beacon of hope and positively shape the future for everyone.
Enter your number to get our free mobile app
5 Quotes About Peace And Inspiration