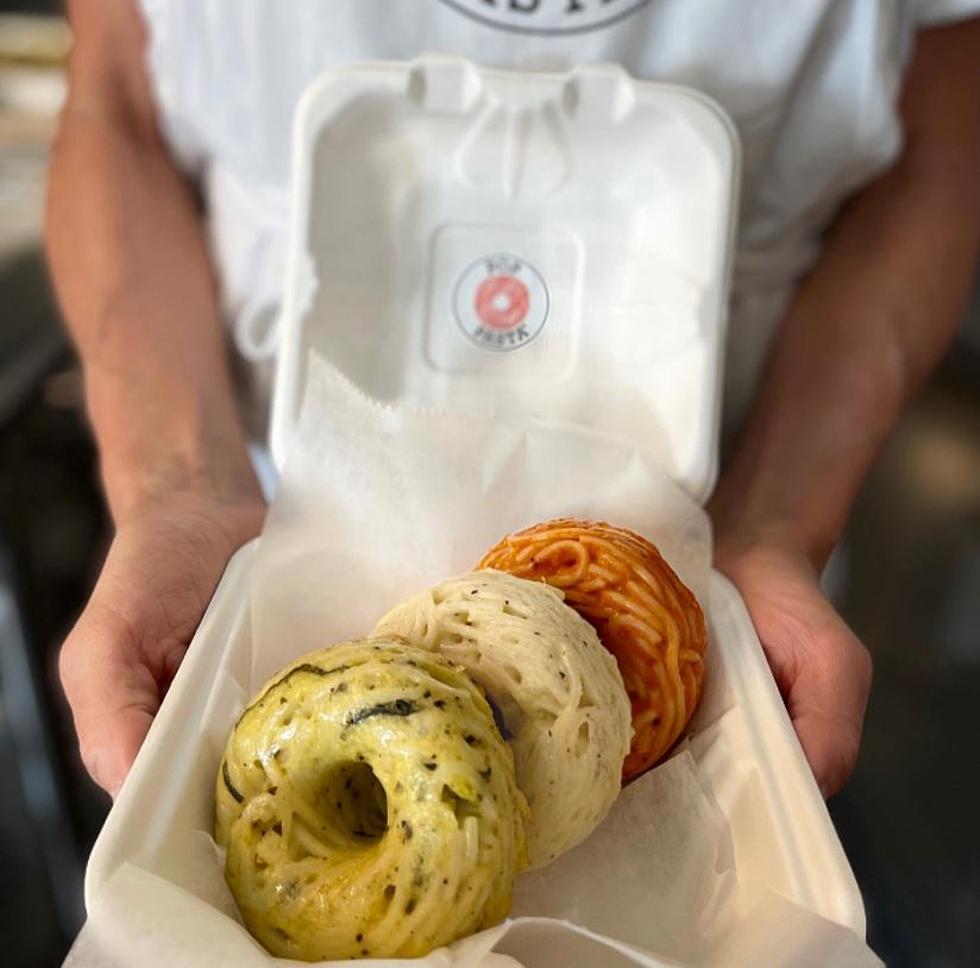 Would You Take a Quick Trip to Brooklyn, NY to Try this Interesting Food Combo?
Credit: @pop_pasta via Instagram
Spaghetti + donuts = delicious.
Need something fun to do this weekend?  Are you tired of having to decide between eating pasta or donuts?  Well, this is just the thing for you!
I was browsing the internet when I came across an interesting food for you to try.  Pop Pasta has created a spaghetti donut.  And if at first, you're like "I'm not sure about this one," stay with me.  Spaghetti donuts aren't your typical dessert donuts made with spaghetti.  If you were expecting something like sauce frosting, you're wrong.
The about section on their site explains it's a spaghetti pie (my mom actually makes this for me sometimes. It's leftover spaghetti with eggs and cheese that's fried together) baked into a donut.  My mouth is watering just thinking about it.  The spaghetti donuts come in red sauce, carbonara, and mac and cheese flavors, to name a few.  The donut shape makes it convenient for snacking, and Instagram-friendly!  Who wants one of everything?
Check em out straight from Pop Pasta's Instagram!
Pop Pasta just announced they opened a spot in Urbanspace Vanderbilt at 230 Park Ave in Brooklyn.  If you like to take weekend trips with the family, this sounds like a good one.  It's about an hour and a half trip from Ocean County.  Urbanspace Vanderbilt looks pretty cool too - it's a giant food hall.  Doesn't that sound like heaven?
If you're not in the mood to sit in the car this weekend, but you still want to try a spaghetti donut, Pop Pasta does ship nationwide. Their site also says they've done markets in North Jersey before.  Maybe they can make an appearance in Ocean County!
So there you have it.  When you can't decide between dinner or dessert, spaghetti donuts are there for you.  Mangia!
these nj Italian restaurants you must try are closer to home
Where To Find The Best, Most Creative Pasta Dishes At The Jersey Shore
Every Extraordinary New Jersey Eatery Featured on The Food Network