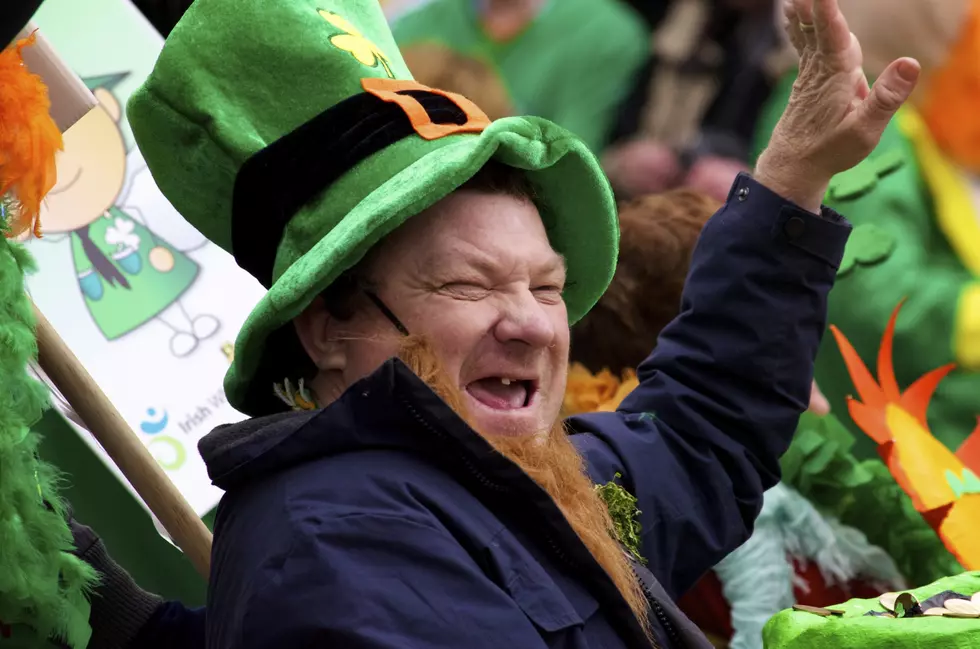 UPDATED: 2020 St. Patrick's Parade Guide For The Jersey Shore
peterotoole, Thinkstock
Alright put away your sappy, romantic movies because now it is time to get ready for St. Patrick's Day!
Bring on the green, bring on the leprechauns, and bring on the Jameson!
And where can you get all three of these: St. Patrick's Day Parades!
Take a look at the events planned for the so you can pencil them into your calendars now!
Belmar - Lake Como, NJ - Parade
Sunday, March 1, 2020 @ 12:30 PM
Website
Starts from 22nd Avenue and Main Street and continue North to Sixth Avenue. Parade will be held rain or shine and can be watched live at their website. .
Ocean County/Seaside Heights, NJ - Parade
Saturday. March 7, 2020 @ 12:00 PM
Website
Damian Murray will be the Grand Marshal of the parade. After the parade, there will be a party at the Hershey Hotel where Ballyhunis will perform Irish music live.
Asbury Park, NJ Parade
Sunday, March 8, 2020 @ 1:00 PM
Website
The parade route begins at the Asbury Park Boardwalk at Ocean and 5th Ave. Check the website for important information including parking and parade route!
Rumson, NJ - Parade & Festival
Sunday, March 8, 2020 @ 1:00 pm
Website
Parade begins on Allen Street and River Road and will end at the intersection of Carton Street and Forrest Avenue. It is encouraged that all attendees get into town by 11:00 AM due to road closures and limited parking. The parade will feature floats, marching bands, Irish Step Dancers, traditional Irish food, antique and classic cars, novelty acts, veteran groups and much more.
Matawan - Shortest Parade in New Jersey - CANCELED
Friday, March 13, 2020 @ 6:00 PM
Website

The Washington Engine Company No. 1 in Matawan knows that everyone is busy. So they welcome you to join them at 176 Jackson Street for a five minute parade filled with pageantry! Then at 6:05 PM, there will be a party to celebrate!
Freehold Borough - Parade - STILL ON; WILL POST ON FB PAGE IF CANCELED
Sunday, March 15, 2020 ; @ 12 PM
Downtown Freehold
Website
Freehold's 9th annual parade will be led by Grand Marshals John and Dawn Reinhardt along with Honorary Guest Grand Marshal J. Nolan Higgans.
The route this year will start at Mclean Street to the Elk's Lodge. Be sure to take a look at the agenda for Irish Week in downtown Freehold which includes a pub crawl and restaurant tours.
18th Annual Highlands St. Patrick's Day Parade - STILL ON
Saturday, March 21, 2020 @ 2:00 PM
Website
The parade will begin at Waterwitch Avenue and will extend along Bay Avenue. The fun will feature bagpipers, marching bands, Irish dancers, beautifully-decorated floats and of course, a sea of Green. For additional information, call 732.291.4713.
Keyport, NJ St. Patrick's Day Parade - PENDING
Saturday, March 21, 2020 @ 1:00 PM
Website
Kick-off will be at 1:00 PM.
The parade will kick off along West Front Street and will honor George Strang as Grand Marshal and Scott Hicks as Deputy Grand Marshal.
Keansburg - Concert & Parade - STILL ON
Saturday, March 28, 2020 @ 1:30 PM
Website
Haven't had enough St. Patrick's Day yet? Then head to Keansburg for a festive parade and then a concert in Friendship Park afterwards which will also feature a beer garden and corned beef for sale at Keansburg Fire Company.
Did I miss anything that you think others would want to know about? Comment Below!
Click here to check out all of the St. Patrick's Day events planned for New Jersey.