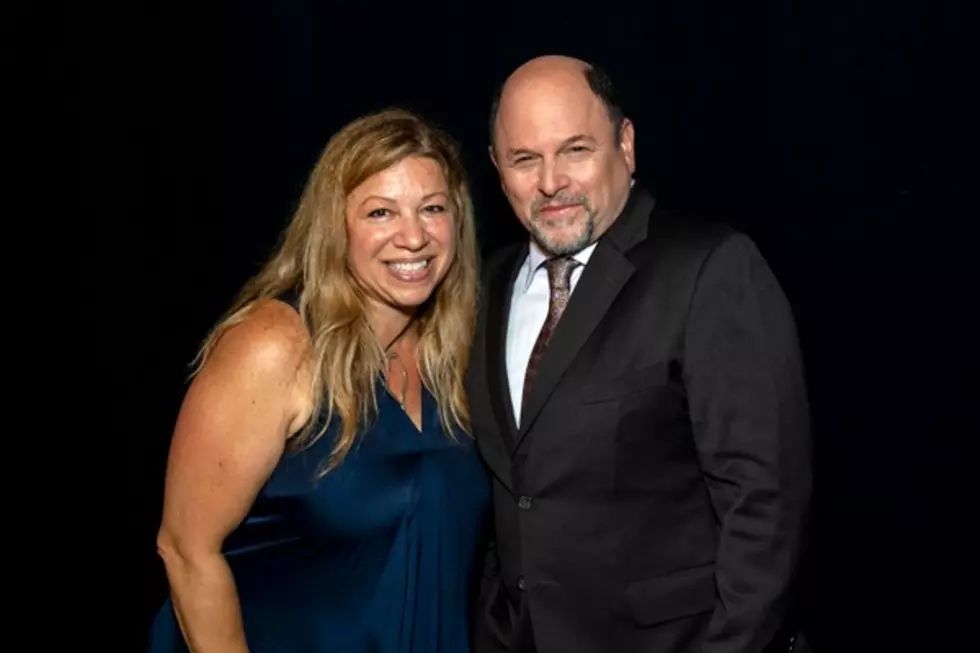 The NJ Hall of Fame Awards Can Be Seen on TV This Sunday
(Liz Jeressi with Jason Alexander, Gellman Images)
Some of our favorite famous NJ celebs will be there, and this is a great awards show!
This Sunday (10/18/20) at 7 pm, one of the best award ceremonies you'll see (because it's centered around the famous and important people of our great state) will be available for your viewing pleasure.
This is the first time that the NJ Hall of Fame Awards has to be done virtually. Normally I would be in Asbury Park at Convention Hall live on the Red Carpet and backstage to bring you photos and stories, along with our friends at Gellman Images bringing you video footage, but then the pandemic happened so we're lucky there's a show at all.
Some of those you'll see presenting or receiving awards or performing include Gaten Matarazzo, Jason Alexander, Ed Harris, John Amos, Wyclef Jean, and SO many more.
Jason Alexander is one of the nicest and funniest celebrities that I have ever had the pleasure of meeting and talking to, back when he was inducted into the NJ Hall of Fame. This time around he will host the show.
Among those who will be inducted: Multiple award-winning actor Ed Harris, NY Giants Quarterback Eli Manning, Roots star John Amos, and Rutgers women's basketball coach C. Vivian Stringer.
Gaten Matarazzo will perform a musical tribute to health care professionals. As Bob Garrett, CEO of Hackensack Meridian Health (and lead sponsor for the NJHOF) says,
 "As our health care workers continue to courageously battle COVID-19, we look forward to honoring their achievements and providing much-needed inspiration across the state."
Three-time Grammy award-winning artist Wyclef Jean will perform, and you'll hear from four-time Academy Award nominee Annette Bening as she presents and accepts on behalf of Academy Award-nominated actor Danny Aiello.
This year's Unsung Heroes Awards goes to the crew of the Battleship New Jersey (our country's longest and most decorated battleship) and Bill Lavin, former president of the NJ Firefighters Association and founder of the Where Angels Play Foundation.
The ceremony will be only an hour long...instead of the much longer event that it usually is when it's live. It will be broadcast on NJTV and WWOR/MY9NJ. Or, you can watch it online on the NJ Hall of Fame's Facebook page, on You Tube, or NJ.com.
The New Jersey Hall of Fame Class of 2019-2020: is
| | |
| --- | --- |
| Arts & Letters: | Public Service: |
| Charles Addams*, Westfield, Cartoonist and creator of The Addams Family | Dr. VirginiaApgar*, Westfield, Anesthesiologist and inventor of the Apgar Score |
| StephenCrane*, Newark, Author of The Red Badge of Courage | SisterJaneBrady, Paterson, Former president and CEO of St. Joseph's Health |
| Joyce Kilmer*, New Brunswick, Journalist, literary critic and poet best known for "Trees" | General MartinDempsey, Bayonne, Former Army general and chairman of the Joint Chiefs of Staff, USA Basketball chair |
| Fran Lebowitz, Morristown, World-renowned author and public speaker | Alfred E. Driscoll*, Haddonfield, 43rd Governor of New Jersey and president of Warner-Lambert |
| MortPye*, Tewksbury, 31-year editor of The Star-Ledger | MiltonFriedman*, Rahway, Noble Prize-winning economist |
| Enterprise: | Sports: |
| TheBorg Family, Hackensack, Former owners and publishers of The Record | RickBarry, Roselle Park, NBA player named one of 50 greatest in history |
| LindaBowden, East Brunswick, N.J. regional president at PNC Bank and N.J. Chamber of Commerce board chair | GerryCooney, Fanwood, Two-time boxing heavyweight contender |
| FairleighDickinson*, Rutherford, Co-Founder of Fortune 500 company Becton Dickinson, benefactor of Fairleigh Dickinson University | EliManning, Summit, Former NY Giant quarterback and two-time Super Bowl MVP |
| Steve Kalafer, Flemington, Chairman of the Flemington Car and Truck Country Family of Brands | RobertMulcahy, III, Mendham, Former athletic director of Rutgers University |
| JosephSimunovich*, West New York, Former Hudson County freeholder director and chairman of the New Jersey Turnpike Authority | C. VivianStringer, Piscataway, Head coach of the Rutgers University women's basketball team |
Arts & Entertainment:
DannyAiello*, Ramsey, Academy Award-nominated actor
JohnAmos, Newark, Roots and Good Times actor
Ed Harris, Tenafly, Multiple award-winning actor
Cissy Houston, Newark, Grammy Award-winning soul and gospel singer
ErnieKovacs*, Trenton, Emmy Award-winning and influential comedian, actor and writer
The Nelson Family (Ozzie, Harriet, Ricky and Dave)*, Jersey City, Stars of The Adventures of Ozzie and Harriet
FlipWilson*, Jersey City, Grammy and Emmy Award-winning host of The Flip Wilson Show, comedian and actor
*-Being honored posthumously.
In the case of someone who has been selected for the Hall but not inducted due to not being able to attend a previous ceremony, the NJHOF may add to the list of inductees prior to the Oct. 18 ceremony.
The Foundation for New Jersey Hall of Fame is a non-profit organization honoring citizens who have made invaluable contributions to society, the State of New Jersey and the world beyond. Since 2008, the NJHOF has hosted 10 ceremonies for over 140 noteworthy people in recognition of their induction into the Hall of Fame.
To read more about the Battleship NJ, the founder of Where Angels Play and more, CLICK HERE.
The NJHOF endeavors to present schoolchildren with significant and impactful role models to show that they can, and should, strive for excellence. The NJHOF is thankful for the support of its many sponsors, without which none of our endeavors would be possible.
For more information on the NJ Hall of Fame, CLICK HERE.
Enter your number to get our free mobile app
3 Residents From New Jersey That Are Stars