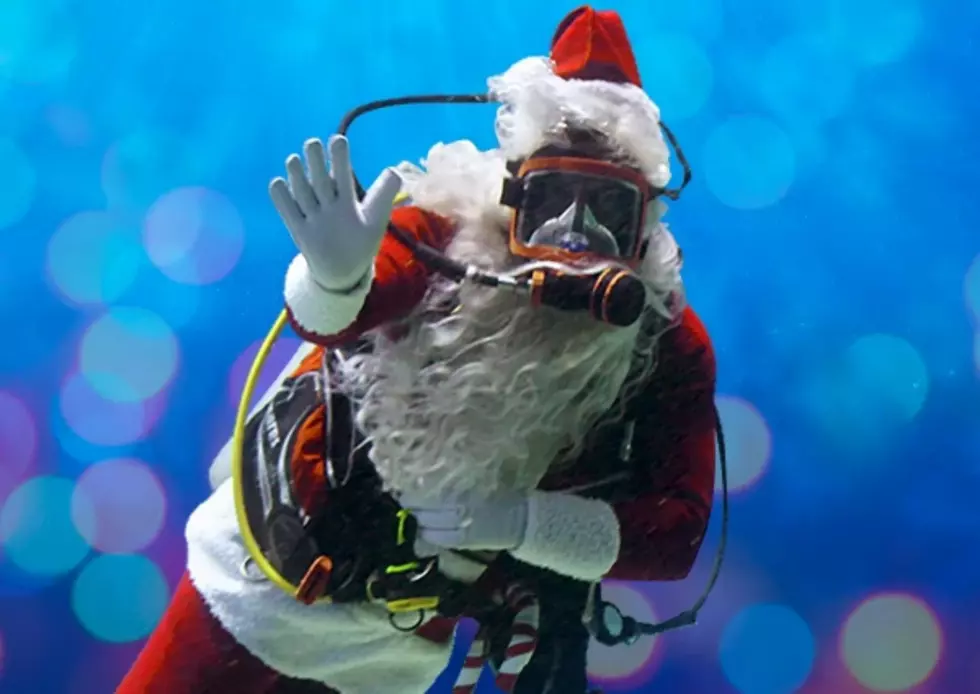 Whoa – Scuba Santa Will Be at Adventure Aquarium
Credit: Adventure Aquarium
When I think of Santa, normally a big red suit and a sleigh come to mind. But this is WAY cooler. 
Adventure Aquarium in Camden shared a press release with us, letting us know Christmas Underwater will be back this season, and Scuba Santa will be making an appearance! Check out some of the event features from Adventure Aquarium:
This holiday season, families can continue the tradition of visiting Scuba Santa as he dives in Adventure Aquarium's Ocean Realm exhibit next to Anchor, the Great Hammerhead Shark and newly elected Adventure Aquarium Resident President, sea turtles, stingrays and other fishy friends.

New this year, while Scuba Santa is taking breaks from diving, guests can visit him for photos from his Magic Snow Globe. Photos with Scuba Santa will be available on weekends and daily starting December 11.

Aquarium elves have spent days decking out the aquarium with holiday décor, including the World's Tallest Underwater Christmas Tree in the Shark Realm exhibit. The 18-foot tall tree takes 15 to 20 people 12 hours to install the World's Tallest Underwater Christmas Tree featuring 400 custom-sculpted corals.
This sounds like so much fun! I didn't even know an underwater Christmas Tree existed, and I bet it looks super cool. The kids will probably go nuts over this - think of how their faces will look when they see Santa is underwater.
Adventure Aquarium is also taking steps to keep the family safe too. They say reservations are required, temperatures will be taken, and masks and social distancing guidelines will be enforced. Plus, Santa will be behind the Scuba glass, and there is another option to take a picture with him inside a Snow Globe. Click here for more info, and details on tickets.
Adventure Aquarium is located at 1 Riverside Drive in Camden.
CHECK THEM OUT: 100 years of Christmas toys, gifts and fads