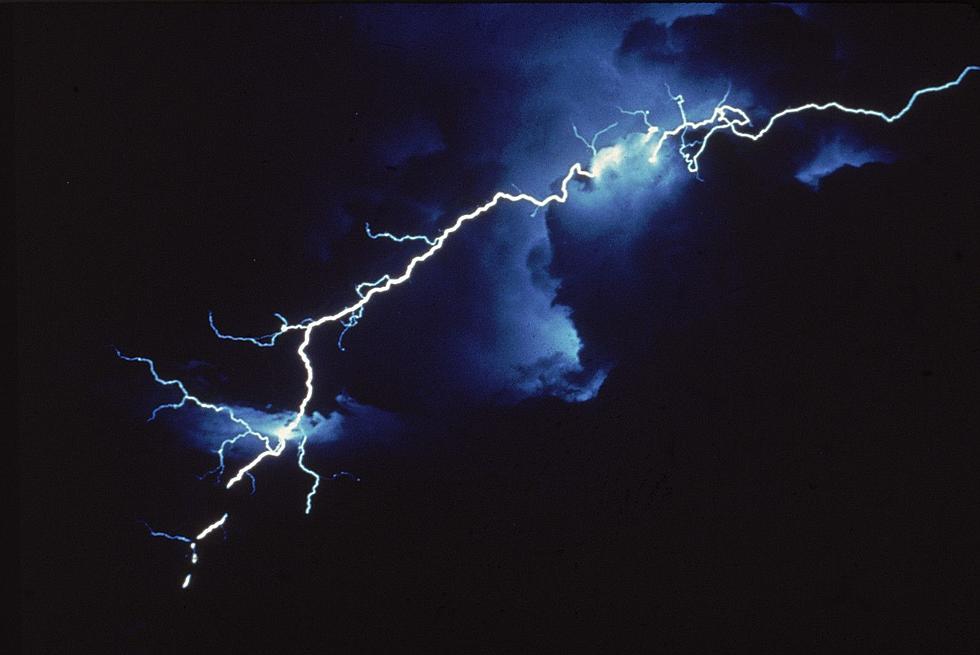 Will The Death Of 19-Year-Old Berkeley, NJ Lifeguard Result In Massive Protocol Changes?
(Photo by Hulton Archive/Getty Images)
Rest in peace to the 19-year-old lifeguard, Keith Pinto, who lost his life earlier this week when he along with 7 other lifeguards were struck by a bolt of lightning while on duty.
Listen to Nicole Murray middays on 94.3 The Point and download our free 94.3 The Point app.
This story is nothing less than a tragedy and my condolences to the friends and family of Keith. I cannot imagine what you are feeling right now.
I think this devastating tragedy will result in a lot of changes at the Jersey Shore when it comes to the safety rules and regulations.
Here is an example.
My friend Nathalie and I are big beach people.
Whenever we go, we stock up to stay the entire day so we can soak up every ounce of sun that we can.
We are so dedicated that there have been many times that we have camped out under umbrellas and towels during a quick sun shower or even a stray downpour so we don't lose our prime time real estate spot.
And we aren't the only ones. During one of our last camp out sessions, the beach was full of other people who were unwilling to give up on their beach day.
When the sun finally came out, I remember screaming, "WE DID IT!" and the entire beach cheered.
I hate to say it but moments like this might be over at the shore.
According to 101.5's Chief Meteorologist Dan Zarrow, "Lighting bolts have been known to travel 30 miles outside of an actual thunderstorm cloud," and the lightning that struck Keith was from a storm just 4 miles away.
This means that thunderstorms -- even ones that are "far" -- are a bigger threat than we thought.
I am predicting that lifeguards and beachgoers will soon have new rules and protocols they will have to follow moving forward whenever a Thunderstorm is nearby.
But I am not sure what the solution is because if beaches closed down every time a Thunderstorm was within a 30 mile radius, the beaches would never be open and revenue from beach badges would be fall dramatically.
That's not all.
There is currently an investigation underway on whether or not the lifeguard stand made of aluminum was a factor.
Nothing concrete has been found just yet but this could mean that even the equipment our lifeguards use will change.
As time goes on, who knows what else officials will discover and what changes that will result in.
This incident could even result in law and protocol changes for outdoor events that aren't even happening at the beach.
I have been in broadcasting for a long time and have worked many promotional events over the years as I have worked my way up.
There has been many times that I have been standing under a tent made of metal as the weather starts to turn. It is a scary feeling.
So, will those 10 x 10 tents you see at events also need to be changed and made from different materials?
Keith Pinto lost his life WAY too soon and once again, my condolences to his friends and family for this sudden loss.
But I would mentally prepare because discussions about how his death affects the upcoming changes are probably just getting started.
It's tragic. But ask yourself: What can we do to make sure this doesn't happen again?
Take a look at the original sources for this piece HERE, HERE and HERE.
Any thoughts on this? Do you agree? Disagree? Email me at Nicole.Murray@townsquaremedia.com.
The 25 Most Dangerous Cities in New Jersey
The 25 Most Dangerous Roads in New Jersey
50 Most Popular Chain Restaurants in America
YouGov investigated the most popular dining brands in the country, and Stacker compiled the list to give readers context on the findings. Read on to look through America's vast and divergent variety of restaurants—maybe you'll even find a favorite or two.