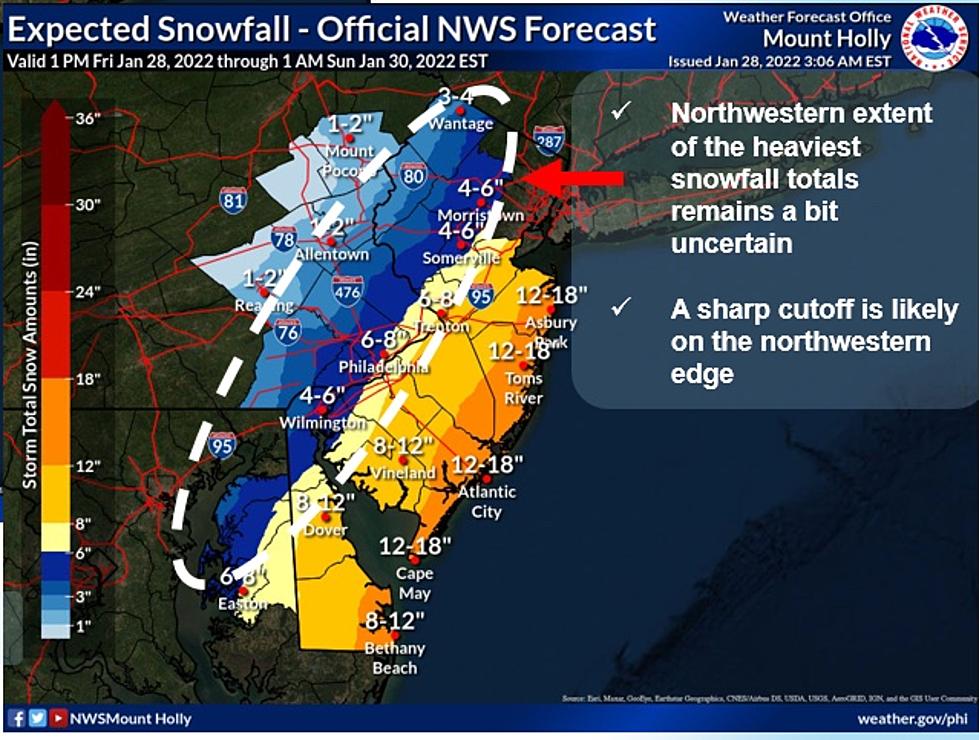 A Significant Snowy Event Could Leave 15 inches of Snow Behind in Ocean County, NJ
National Weather Service
Here comes the snow!  As we head into Friday, it is becoming more clear that we could see a true nor'easter impacting the area.
The warnings are up and the snow could be significant, as of right now.  I'm pretty excited about this storm.  Since it is the first major snow since moving back to the northeast.  Yes, it did snow at the beginning of the year, but it was more significant further south.
What's the difference between watches and warnings with the weather.
According to the national weather service, a watch means there is a risk of hazardous weather but the timing and location are still uncertain.
A warning, on the other hand, means the hazardous event is imminent or likely.
What is being forecasted for this nor'easter?
According to the warning, we could see 9 to 15 inches of snow with high winds, including gusts, as high as 50 mph.  Starting from 7 pm Friday to 7 pm Sunday.
How much snow is expected for New Jersey and Pennsylvania.
Look at that!  The shore could actually see up to 18 inches of snow according to this grapic.  That's over one foot from Asbury Park to Cape May.
Right before leaving work, my wife sent me a book via text message, on items to grab at the grocery store because, surprise, we were not prepared.  I grabbed everything from pasta, because, you know, pasta, to you, guessed it, bread, milk, and eggs.  We literally go grocery shopping over the weekend. So, don't judge.
You never know with storms like this, especially with the threat of high winds, you could deal with power outages, to impassable roadways for a good period of time until plows make their way from the major roadways to the side streets.
Settle in, get ready to stay warm, and binge that favorite show.
If you have kids, they are going to love being able to go out and enjoy the snow.  Oh, there's nothing wrong with sledding down a small hill on a garbage can lid.  Just in case you needed a sled idea.
How Coastal Flooding can Impact Parts of New Jersey
Here are over 20 photos from January 17, 2022 Coastal Flooding that hit parts of Ocean County, NJ
Our first New Jersey Snow to Kick off 2022
Listeners sent in their favorite snow pics from the first week of January where some parts of Ocean County saw nearly 20 inches of snow.