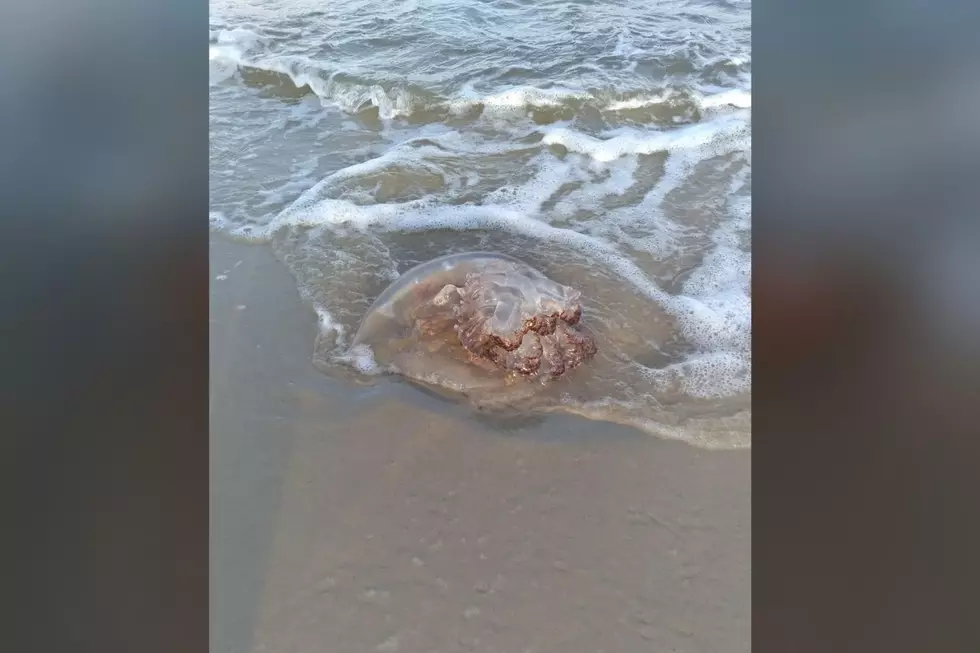 The Most Astounding Jellyfish Was Spotted on Cape May NJ Beach
wildwoodboardwalk/Instagram courtesy Cynthia Herb
A visitor to Cape May Beach captured an amazing photo of a huge jellyfish that had washed ashore. We know they're stings can be scary, but this jellyfish is a thing of beauty.
The sea creatures are out there! And, they seem ready to make their presence known.
Just days ago we told you about a large stingray who frolicked next to a surprised surfer off the coast of Wildwood.
Then, a woman named Cynthia Herb came across this blubbery and transparent, but gorgeous, jellyfish.
The perfectly-Jersey Shore image was posted to Facebook and Instagram by Wildwood Boardwalk, with some speculating in the comments that the creature may be a Man-of-War jellyfish. Others say, "no," it's jussstttt a jellyfish.
This one is clearly NOT in motion, but when they are, jellyfish are a spectacular sight to see. I was stung by one once, though, when I was a toddler. Gosh, I hope my dad didn't pee on my feet, lol. Old wives tale, right?
LOOK: 30 fascinating facts about sleep in the animal kingdom
CRUISIN'! Your Guide to Tiki Boat Rides Along the Jersey Shore
Love a good Tiki bar? Love being on the water? How about combining both. Here's where to pick up a Tiki boat ride next time you're at the Jersey Shore.
10 New Jersey Restaurants Visited By Anthony Bourdain
Let's take a trip on the New Jersey Anthony Bourdain Trail!
https://visitnj.org/anthony-bourdain
"If I'm an advocate for anything, it's to move. As far as you can, as much as you can. Across the ocean, or simply across the river. Walk in someone else's shoes or at least eat their food. It's a plus for everybody." - Anthony Bourdain