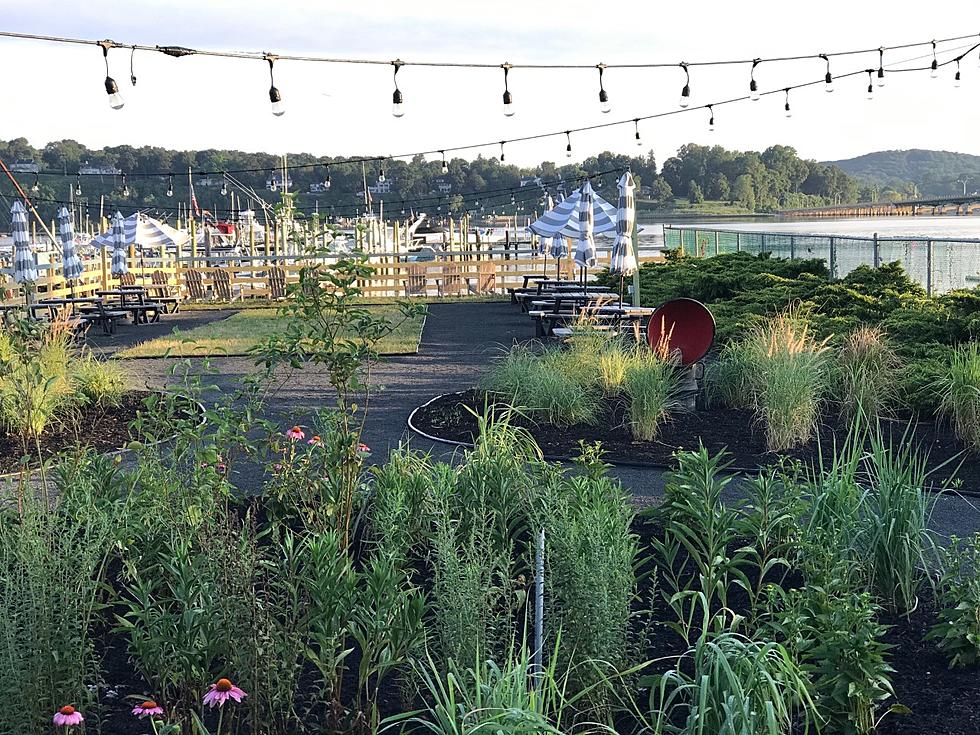 Barnacle Bill's Beautiful Outdoor Dining Garden
(Photo by Liz Jeressi)
This restaurant has been so popular for so long. It sits along the Navesink River but had to adapt once outdoor dining became the thing.
Instead of just throwing some table and chairs on their back lawn, the family who owns this Rumson favorite took the time to create a lovely garden, complete with pathways for walking between tables, Adirondack chairs for cocktails, umbrellas for shade, and a beautiful garden.
And, let's face it, you can't beat the 'show' on a nice night: The sunset over the river!
Although Barnacle Bill's was always known for their award-winning burgers, seafood, drinks, and live music (some of the best local musicians you've ever heard anywhere!)  they didn't offer outside dining.
People would happily cram inside this casual place on the water to be where the action was. But those days came to a screeching halt with Covid-19, when Barnacle's had to readjust for take-out orders.
They decided to wait on outdoor dining until they could do it right. It took them until July 4th weekend, but it was worth the wait. Open Tuesdays through Sundays. Hours Tues - Thursday are 4 pm - 10 pm; Hours Fridays - Sundays are Noon - 10 pm! It's first-come, first seated (no reservations) so get there early or be prepared to have drinks while waiting a while for a table because this place is popular!
I still really miss the live music scene at Barnacles and other Jersey Shore restaurants/venues.  Remember when we would all be shoulder to shoulder singing out loud and dancing along with a band in a crowded restaurant/bar (with no masks!) like this one? That seems like a lifetime ago and now we cringe at the thought of being inside so close together.
But I do hope that more restaurants can start incorporating live music for those who are dining outside. I mean, if people are sitting safely in their groups six feet apart from each other, what's wrong with a side staging area for music to dine by?
I won't name the places that I know are already doing this because I don't know the legalities...but I hope to see more of it!
Enter your number to get our free mobile app
KEEP READING: See states hit hardest by COVID-19's impact on tourism