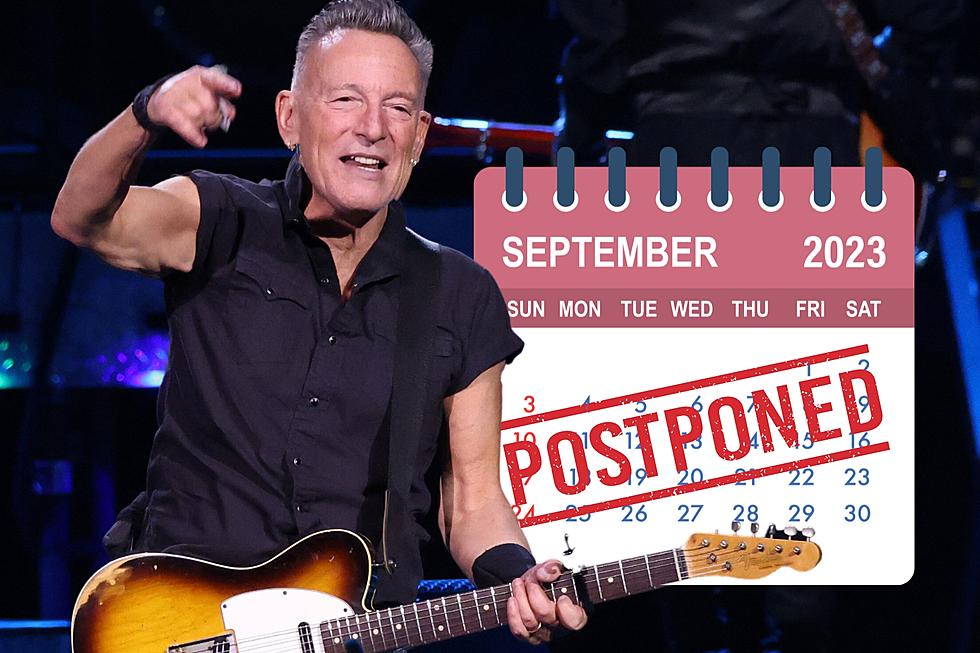 Bruce Springsteen Abruptly Postpones Full Month of Tour & Finally Apologizes to Philly Fans
Composite via Canva & Getty Images
Just days after he rocked MetLife Stadium in New Jersey for three shows over the Labor Day holiday weekend (with mixed reviews), Bruce Springsteen has postponed all eight of his remaining shows, which were scheduled for September 2023.
In the announcement shared Wednesday evening just after 8 p.m. on Wednesday
(September 6), Springsteen also finally addressed the postponement of the Philadelphia concerts which left thousands of fans devastated ahead of his August 2023 shows.
The cause for the cancelations? When the September shows were canceled we didn't know much as fans were largely left in the dark.
But now we know why the Philadelphia show (and all September shows) were canceled:
Springsteen is being treated for a peptic ulcer, according to the release.
"Over here on E Street, we're heartbroken to have to postpone these shows." Springsteen & the E Street Band wrote Wednesday night. "The decision of his medical advisors is that he should postpone the remainder of his September shows."
Bruce Springsteen Finally Apologizes to Philadelphia Fans
Bruce Springsteen canceled his August 2023 shows just hours before the first one was set to begin. In fact, fans were already tailgating in the parking lots of Citizens Bank Park.
"Apologies to our fabulous Philly fans who we missed a few weeks ago," the message read. Those shows were JUST rescheduled for August 2024.
As for the postponed September 2023 shows across Syracuse, Baltimore, Pittsburgh, Connecticut, Albany, Columbus (Ohio), and Washington D.C., they'll be rescheduled at a later date.
"Thank you for your understanding and support. We've been having a blast at our U.S. shows and we're looking forward to more great times," the message said, which was signed "love and God bless all," by Springsteen.
The postponed Bruce Springsteen shows for September 2023
The entire list of postponed Bruce Springsteen shows for September 2023 are listed below:
September 7 - Syracuse, NY - JMA Wireless Dome
September 9 - Baltimore, MD - Oriole Park at Camden Yard
September 12 - Pittsburgh, PA - PPG Paints Arena
September 14 - Pittsburgh, PA - PPG Paints Arena
September 16 - Ucansville, CT - Mohegan Sun Arena
September 19 - Albany, NY - MVP Arena
September 21 - Columbus, OH - Nationwide Arena
September 29 - Washington, D.C. - Nationals Park
Ticketholders were told to hold onto their tickets for the rescheduled dates, which will likely be 2024.
LOOK: The Most Famous Actor Born Every Year