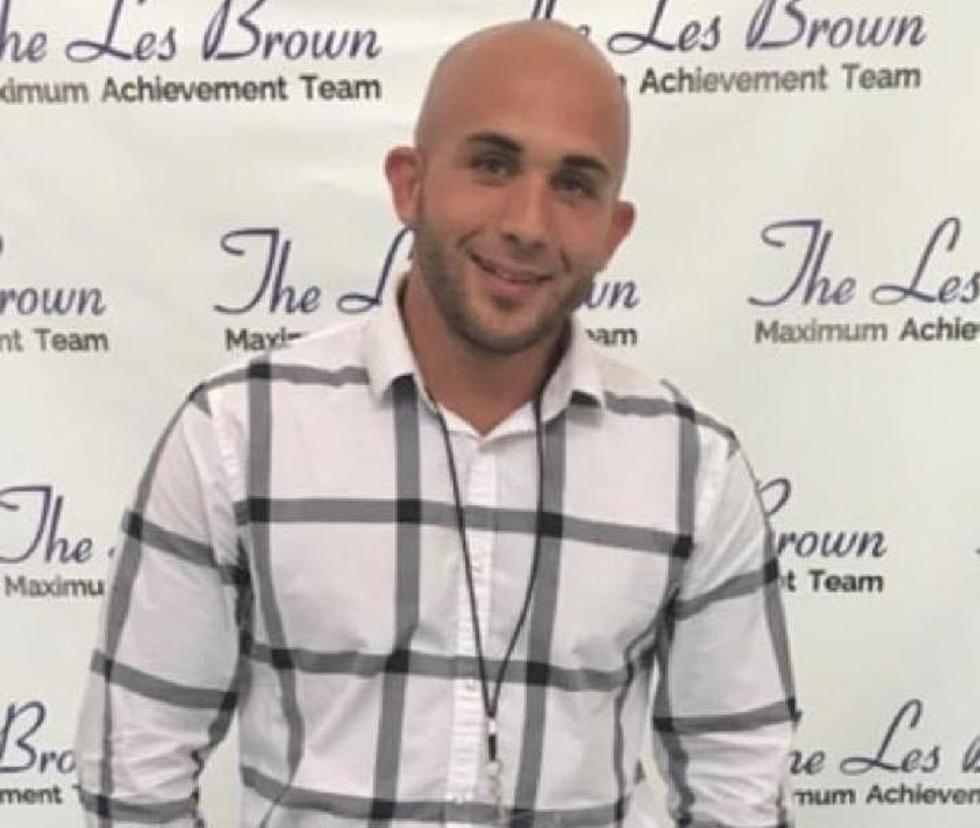 Hazlet, NJ man details how he broke the shackles of drug addiction and found recovery
Phil O'Hara (photo courtesy: Phil O'Hara).
There needs to be more conversations about the dangers of drugs in our communities -- all of them from crack cocaine to heroin to meth to LSD as well as addictions to recreational marijuana, vaping products, and nicotine.
We need to curb the trend of drug deals, we need to shine an even brighter light on the opioid and drug epidemic and help clean the streets and help people find recovery.
One big voice in the Monmouth County, Jersey Shore community who is helping provide a beacon of hope is 34-year-old Phil O'Hara, a Peer Recovery Specialist with several non-profits/organizations including Hazlet's Hope Network.
O'Hara was a guest on Sunday morning on 'Shore Time with Vin and Dave' on 94.3ThePoint/105.7TheHawk discussing his battle with addiction from prescription pills to heroin and how he found his way to recovery and what he's doing now to help others and served up a warning about the dangers of vaping, recreational marijuana/THC and other drugs in our communities.
"I think a big problem we have when we educate young people on drugs and alcohol is we tell them drugs and alcohol are bad and they're going to run your life, right, but what are we not telling them about the first time that they drink? We don't tell them that they're going to experience fun, that it's going to physically feel good, that they could potentially have a good time," O'Hara tells Townsquare Media.
He explains that it wasn't pointed out and still isn't in some cases today the trickle effect that negative positives can have on young minds.
"In 7th grade, New Year's Eve, we snuck a Peppermint Schnapps up to my friend's room, all the adults were drinking and having a good time, and I had my first drink. I drank some, I physically felt good, I drank a little bit more, and I felt better. After about an hour I got up the courage to call the girl I had a crush on since the 5th grade, turns out she had a crush back, I asked her to be my girlfriend, and she said yes. I woke up the next day with a headache and a girlfriend -- that didn't exactly ruin my life," O'Hara said. "Instantly, everything they taught me about drugs and alcohol in school went out the window in one night."
O'Hara was on the wrestling team at Raritan High School and it was during those years that he smoked marijuana for the first time his freshman year and had a similar experience that he did drinking alcohol for the first time.
Then came his sophomore year of high school when a day came when he had to get a tooth pulled out and it was during wrestling season.
"My brother picked me up, took me to the dentist, took me to the pharmacy, I filled my prescription, I got a prescription for antibiotics, I got a prescription of opioid painkillers. It was 2002-2003, there wasn't all this education about opioids (at that time)," O'Hara said. "I had these pills, they were painkillers. I went back to the locker room, I took two of them, the first thing I noticed was that I physically felt good, I felt them enter my system. I'm not very flexible, I get into the wrestling room and (generally) I can touch past my knees and all of the sudden, I go to stretch and my hands are touching the floor, like I'm palming the floor, and I was like 'woah' -- and I know why I'm touching the floor, it wasn't a mystery to why I was this flexible."
He came to find that as a result of taking the prescription pills, and opioid painkillers he had improved results on the wrestling mat.
"I'm able to wrestle hard, I have like this sixth-gear out of nowhere, coach blows the whistle to run sprints, I can't feel my legs, I can run as many sprints as you want, in fact, I'm winning every sprint," O'Hara said. "I walked out of that wrestling practice -- I had one of the best wrestling practices I ever had in my life."
The trend continued into his senior year of high school when the wrestling stakes couldn't be higher.
"We wrestled Del Valle in the State Sectional Finals and I have to bump up a weight class, I have a really tough match, I find my buddy who was injured on the football field that year (and) had a laundry list of medications -- Gabapentin, Xanax, Opioids -- I went up to that friend, I asked him for a couple of pills, I had a big match, I got them, it was very easy to get. I took them in the locker room, I went out and won in overtime against a kid that was supposed to beat me," O'Hara said. "We won the first State Sectional in Raritan High School history -- and I did it high on painkillers."
Following wrestling season, O'Hara went to school sporadically.
In the years that began to follow, he briefly found sobriety for 45-days but relapsed following the death of a relative.
" My cousin overdosed and died. I went up to his funeral and there were pills around, and environmental stuff, and that typical 'I'll do one', I did that, I tried it and I relapsed and when I relapsed I made a decision that I'm never going to do that again, I'm not a bad person but I'm going to be a drug addict for the rest of my life. I accepted the fact that I was a drug addict," O'Hara said.
From there he went not only from using but added selling drugs to his life.
His addiction came to a halt when he got into legal trouble sending him into detox in 2014.
"I got out and relapsed again, I stopped selling drugs at that point, and from 2014 to 2016, when I didn't have the money from selling drugs and I couldn't afford pills anymore, that's when I switched to heroin, because it was cheaper," O'Hara said. "I snorted by first bag of heroin in 2014 and it felt exactly the same as that pill did in high school."
The opioid epidemic that's stretched for more than a decade now began to spread its demonic horns beyond the stereotypical sites to buy drugs and into the suburbs and other local communities.
"I got so much stuff off unassuming housewives, people that husbands had a full-time job or they themselves have a full-time job -- it's not the people that you think it is, ya know, and it's not these vast criminal empires either, it's literally people that are leaning on each other to get by and not get sick and make just enough to get what they need," O'Hara said.
When O'Hara had built up such a high tolerance to the drugs in his body, they didn't feel as effective on him as taking away any physical pain he was feeling.
"I'm not even getting high any more, I'm just not sick," O'Hara said.
In the midst of all that, he was injecting himself with steroids to bulk up while also taking heroin.
"I was a steroid user too, that was a big part of how I hid my addiction. I didn't look like what the stereotypical drug addict -- all skinny -- I maintained a bigger weight," O'Hara said. "I had these needles in my bathroom and I was sick, and I didn't have enough money to get through until pay-day and I had these three bags left and I made the decision to shoot heroin for the first time."
Things started to slowly click for Phil O'Hara as he began his road to recovery.
"There was a man named Darron Rodgers in Sunrise Detox in 2014 that said, 'son, you need to go get help', and I said, 'no I need to stop selling drugs and hanging out with motorcycle clubs and hanging out in bars and I'll be okay', and as I started to send that needle towards my arm, I heard that guys voice," O'Hara said.
A seed had been planted, Phil intended on getting help and stopping, but didn't have it set for when that would be.
"I injected for about four-months, and I lost my job, I lost the girl, my car got stolen in Kingsburg -- I was so out of it, that I would lose my car keys so I just started leaving my keys in the ignition," O'Hara said. "Some 15-year old kid was going through cars and just took it for a joy ride and they didn't find it for three-weeks, it was in Middletown somewhere. My car got stolen, I called out of work that day and got fired."
Then he relapsed again.
"I took my layoff check and I bought the last amount of drugs I had and locked myself in the house for a couple of days," O'Hara said. "Finally, my mom called me and she said 'call the union and get on the list', and I was like 'no, no, no', 'call your student loan and get on forbearance, I said, 'you're out of your mind, just leave me alone', and I hung up on her."
His mom then drove over to his house.
"She comes in and says, 'you're using again', and I said 'yep', and she said, 'go get help', and I said 'absolutely', and I think she was shocked," O'Hara said.
The journey then continued back on the road to recovery.
"I made a phone call to a high school teammate, Richie Bryant who was working for a treatment center, he got me scholar shipped into a facility in Florida, I went down there and I took the opportunity," O'Hara said.
On the night before he was scheduled to fly down to Florida though, Phil was arrested twice in 45-minutes in Hazlet.
"The first thing I felt was fear, 'what is my life going to be like without these drugs that I use to cope', and I looked at my mom and I said, 'I need sixty bucks', and my mom said, 'why', -- now, up until this point, I didn't rob anybody, except for my mother. I didn't rob stores, I didn't rob people but I would always finesse my mom into paying my cell phone bill that was already paid, or my electric bill that was already paid, I could always get money out of my mom -- and I said, 'because I need to get high' and she -- this was one of the worst moments of my addiction -- she went to the ATM in tears and got me sixty-bucks and I was so afraid that that was going to be the bag that killed me."
As he drives out with a destination of Jersey City, he gets pulled over and arrested by Hazlet Police for a suspended license but is released a half-hour later on a summons.
His mom brings him home, he promises her he won't get back out there and drive, but as soon as she leaves, he takes his girlfriend's car and heads out on the road getting to a spot on the road where he was two cars behind his mother.
He then went into a bar in the area and went in looking to buy drugs and did just that.
On his way home, he crosses the double yellow line on a road in Hazlet and is pulled over and arrested again by township police.
Three of the police officers Phil saw that night, were high school classmates of his and when at the station, he tried to convince them he was about to go to Florida for rehab.
"I said, 'listen, I did the assessments, I'm going tomorrow', and I think 50-percent they were happy, the other 50-percent didn't really believe that I was actually going to get on the plane," O'Hara said.
He then went home and overdosed on heroin, waking up 4-hours later.
"I didn't get Narcan, most people see narcanning as an overdose -- my heartrate dropped enough to where I fell out, I fell on the bathroom floor and I woke up four-hours later," O'Hara said.
The next day, his mom's friend took him to the airport for a flight to rehab in Florida.
And, at 28-years old, in 2016, Phil took a turn for the better, in rehab.
"I was a little crazy when I first got down there, I was very angry, I had a lot of emotional pain, I was very short tempered, so treatment was very difficult for me," O'Hara said.
Within the first 45-days, Phil learned how to better handle his emotions and temptations and was able to open up in rehab about things like his parents divorce and things that he bottled up inside, trying to find ways to cope with it and never really getting out in the open to anyone.
"They call treatment centers treatment centers, they need to call them separation centers because you're not going there to get cured, you're going there to get some separation from the streets and from the drugs and to get a bird's eye view of what's wrong in your life," O'Hara said.
It was about 60-days into sobriety in Florida, when Phil relapsed following another death in the family.
"My aunt died of an overdose in New Jersey," O'Hara said.
While back in New Jersey for the funeral, and 48-hours into his trip home, he saw a friend, and upon hearing the word 'Adderall', he wanted some and his friends tried to tell him no.
"That obsession to use popped into my head and I left after 30-minutes when I realized they weren't giving me anything and I drove to my buddy's house who I knew had heroin and was in active addiction, and I said, 'listen, let me get a bag', and he said no, and this kid cares about me, 'no, you're doing good, I'm not giving this to you'," O'Hara said. "I said, 'listen, I'm either going to pay you for that bag or I'm going to fight you for that bag, so you're going to give it to me', and at that point he was like, 'dude, whatever, here you go'."
He didn't want to shoot heroin, knew it was strong but said he couldn't say no, and then he did it.
He went from feeling good to feeling miserable four days later.
Then on June 3, 2016, back in Florida, he got back on the road to recovery, "and my life changed."
From that point, through and following his recovery, he turned his attention in the years that have followed to helping guide others through their addictions and into recovery and rehabilitation.
"One of the goals was that I wanted to go back into high schools and I wanted to speak," O'Hara said.
His first stop was his alma mater, Raritan High School.
Three more schools in the Bayshore region then requested O'Hara and along the way met Michael DeLeone with Steered Straight.
"He started sending me to Indiana, Iowa, all these different places to speak," O'Hara said.
As things picked up, O'Hara became an interventionalist with Arise.
Then, Hazlet's Hope Network, "which has kind of been the best thing that I have been a part of since finding recovery."
You can listen to more and the entire discussion Dave and I had with Phil O'Hara on 'Shore Time with Vin and Dave', right here.
First Responders Appreciation