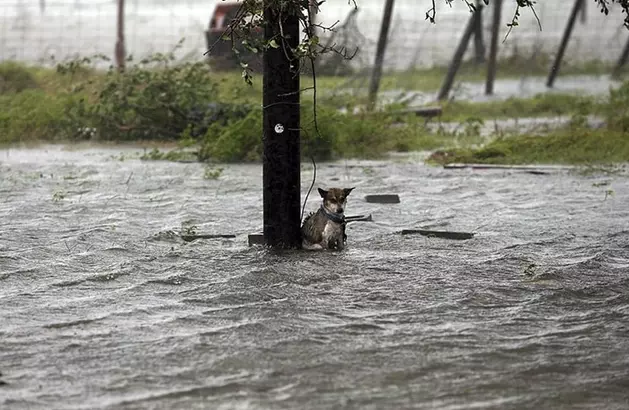 Help the MCSPCA As They Rescue Dogs from Houston
(Ruaraidh Connellan via Dailymail.com, photo courtesy of MCSPCA)
The Monmouth County SPCA (MCSPCA) has just taken in 100 dogs and got them settled into their shelter at 1 am (this morning!) These poor animals came out of the Hurricane Harvey area of devastation in Texas. And that is only the beginning. Here's how you can help.
The dogs rescued early this morning have been brought to the Eatontown location of the MCSPCA where they will get a checkup by a veterinarian and then placed up for adoption within the next few weeks.
With all that the MCSPCA learned after our own devastation from Superstorm Sandy, they started preparing their shelter to take in animals from Houston the moment the storm hit. There is no better non-profit organization in our area equipped with the knowledge and facilities and volunteers than this great shelter to help out in Houston.
Some of the animals rescued from Houston were shelter dogs that were already scheduled to be released, in order that the Houston shelters can make room for families whose dogs are displaced. But some of the other dogs that are now at the MCSPCA had to be surrendered by families who lost everything and just wanted to make sure their beloved pets would be safe and taken care of.
My heart goes out to those families for such a tragic loss of a pet that they love...and who are now facing life having to start over in every aspect of their lives. These pets will need all of your love. They are in shock over what has happened and now have to adjust to a new environment after a scary transport.
The MCSPCA is currently asking for donations of towels, sheets, toys and treats for the incoming dogs to keep them happy and comfortable after their long and scary journey. The MCSPCA's Amazon Wishlist can also be used to donate items (be sure to choose the Monmouth County SPCA as your Amazon Smile recipient.)
And the shelter is also looking for foster families to take in a dog or two until they can find permanent homes. CLICK HERE for details on fostering.
Stay tuned for another big announcement on how the MCSPCA will be helping after the devastation in Texas. We will bring you all the details.