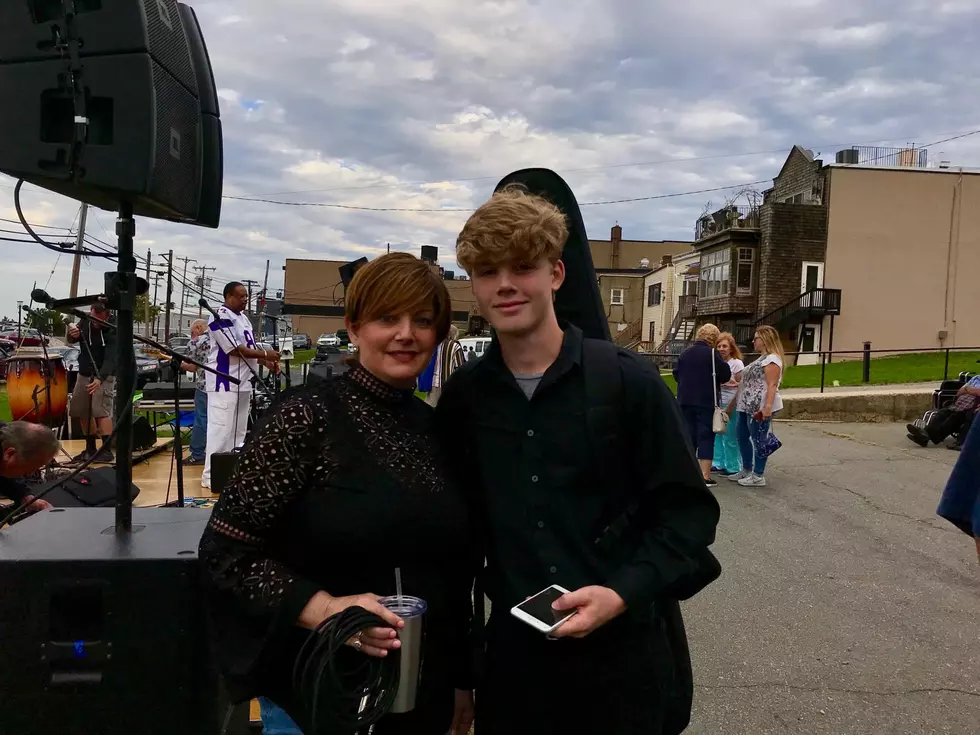 Help This Belford Mom Stay Alive For Her Son
(BethAnne and Paul, photo courtesy of BethAnne Clayton)
Cancer sucks. We all know that. This is the story of a single mom with a 16-year old son who already lost his father to cancer.
BethAnne Clayton is raising her son, Paul, alone. Paul is an only child whose father passed away just a couple of years ago -- also of cancer.
This beautiful mama with a God-given talent has spent her life using her voice to help others. For years she has volunteered with Tim McLoone and his Holiday Express, as well as singing at so many other fundraisers and benefits to help others. She has always believed in the power and healing of music as a way of helping those in need. Now she's the one in need.
BethAnne has no greater love than for her son. Paul grew up in a house full of music and inherited his mom's musical ability. He is an amazing bass player and singer and when he harmonizes with his mom it is simply magical. Enough to bring tears to your eyes at the thought of Paul not having his mom around to cheer him on as he navigates high school (he is a Junior at Middletown North) and starts looking at colleges.
Paul also plays in jazz and chorus groups at school including All-State, and has followed in his mom's footsteps volunteering his time to perform for fundraisers in our community. Beth hopes and prays to be in the audience for some of these shows because she is so incredibly proud of the young man and artist he has become. Paul has such a good heart and has already accomplished so much despite watching his mom fight this relentless disease.
BethAnne's cancer diagnosis (ovarian) came over 3 years ago when Paul was only 13 and, since then, she has battled hard through surgeries, chemo treatments, numerous hospital stays, and severe pain...all while trying to keep life as 'normal' as possible for Paul so that he wouldn't be worried and afraid, and so that he could just concentrate on being a teenager.
Recently Beth, who has always selflessly given so much to her family and friends, suffered a major setback and had to undergo a very risky surgery. She currently requires home care day and night that only qualified professionals in the health care industry can give. Yet insurance isn't always what it's cracked up to be and those nurses are so expensive.
So BethAnne's sisters and friends have come together to set up a GoFundMe page in the hopes that any little bit that you might find it in your heart to contribute will help keep BethAnne here with her son for as long as possible. Her goal right now is to heal enough from this surgery that she is able to go back on chemo in order to keep the cancer from spreading.
But, most of all, let's help Paul, who has no siblings or other family close by, to not be burdened with the responsibility of his mom's care. It is bad enough that he has already lost one parent. To lose the other would be devastating. Let's add prayer -- for healing and miracles -- to what we can all do to help this Middletown family.
About a year ago, BethAnne wrote and recorded a song with her son on background vocals, and made a video to go with it, to share with others who hope to rid themselves of cancer and other toxic problems in their life. It is a powerful look at what life can throw at us that we can all relate to.
CLICK HERE to watch this video, called "Get Out, Stay Out," and the story behind it.
To make a contribution to BethAnne to help with her care and providing for her son, PLEASE CLICK HERE.