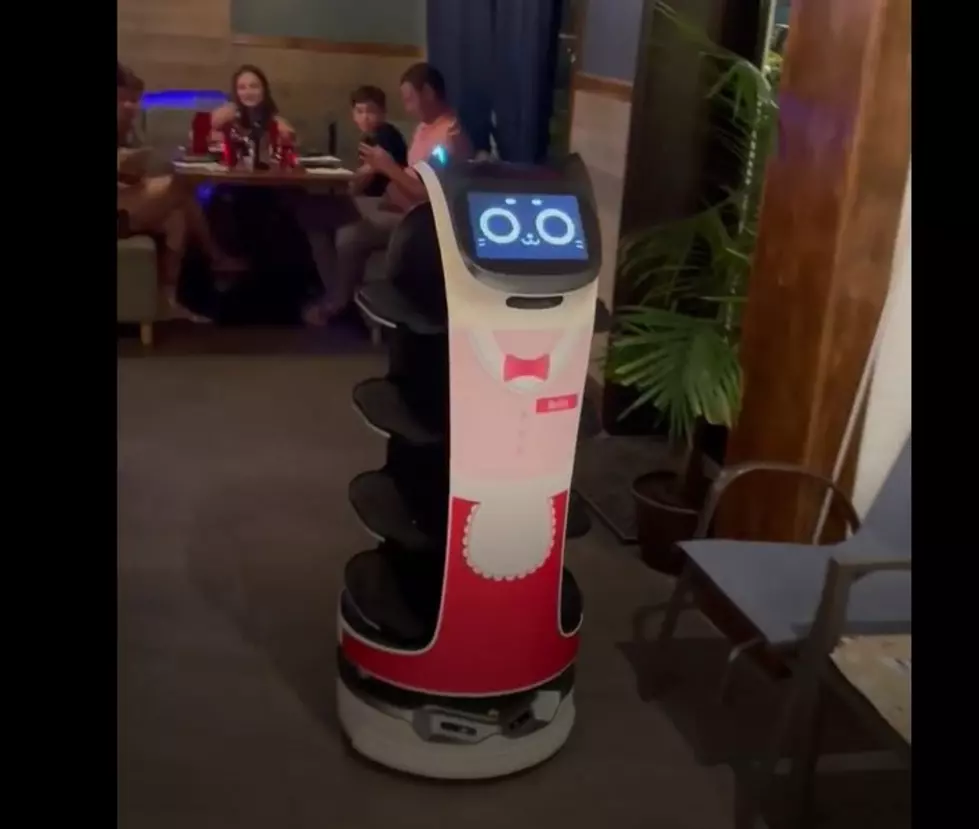 Watch Robot Server Take Care Of Customers At Sushi Restaurant In Lavallette, NJ
Screenshot
The world of eating out has drastically changed since the onset of the COVID-19 Pandemic.
Outdoor dining, contactless delivery and more expensive prices have all proven that the restaurant industry will never be the same.
The technology restaurants use has really stepped their game up and I have the proof!
In case you haven't heard, robots are starting to be used in restaurants, grocery stores and other businesses across New Jersey.
The first I ever saw was the googley-eyed robot at the Stop & Shop in Toms River. He wanders the store to alert staff of product shortages, areas that need cleaning and he even has his own parking spot to charge.
Now, robot servers are next.
A friend of mine recently went to Hoshino located at 1700 Grand Central Avenue in Lavallette and guess what,  THEY HAD A ROBOT SERVER ON STAFF!
I demanded video because as someone who used to bartend and serve,  I am curious what these robots are capable of.
Here is what I learned:
One of the first responses a lot of people had to this video is, "Oh great. Now servers and bartenders are going to have their jobs taken away by machines."
I have good news that should put all servers, bartenders, managers, bussers and hosts at ease.
These robots do not talk. There is nothing like a friendly server or bartender who makes you feel welcome and knows the menu inside and out.
Please know robots can never replace this.
They are simply being used to help things flow more smoothly during staff shortages.
This robot specifically is used for food delivery.
Staff will place a trey of food on the robot, press a few buttons so it knows where to drop it off and then off it goes.
Once the robot arrives, my friend Jim who sent me the video above, said you take your food and press a button to let the robot know you are all good to go.
Here is another fact that should put restaurant staff at ease: If you need some extra sauce or there is an issue with your order, you will need to let a human staff member know to have the issue resolved.
These robots are helpful but can only do so much.
In theory, things like this are helpful.
But between these robots, that first-ever hamburger vending machine, drive-thru's, contactless delivery and more, the food experience is becoming more automated than ever.
Sometimes it is cool to see what a machine can do.
But sometimes, I want to go out for some social interaction and to enjoy food that is made with love by people.
This is cool but hopefully this never goes too far.
Robot server or not, here are some other restaurants to try at the shore:
20 Succulent New Jersey Seafood Restaurants too Sensational Not to Try
15 Beloved New Jersey Italian Restaurants Too Delectable Not to Try