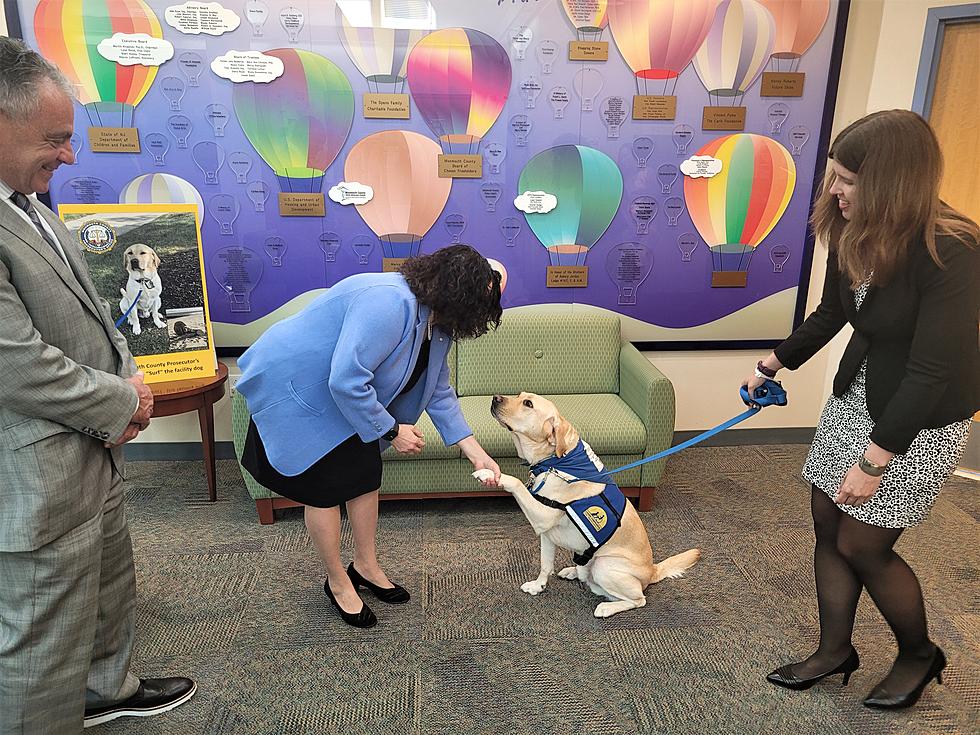 Meet 'Surf', the newest member of the Monmouth County Prosecutors Office
(Photo Courtesy: The Monmouth County Prosecutor's Office)
When kids feel anxious, nervous or upset in some way a warm hug from a dog can make all the difference in the world in cheering them up for a little bit.
That's part of the reason the Monmouth County Prosecutor's Office has brought in 'Surf', the facility dog who will work in the Child Advocacy Center.
Listen to Vin Ebenau mornings on Townsquare Media Jersey Shore Radio Stations, email him news tips here, and download our free app.
The "hiring" of the 4-year old yellow Labrador retriever was announced Wednesday by the MCPO, who said that Surf comes to the department with cars of training under his collar as well as "a relentlessly affable attitude, and an unwavering commitment to service to his role."
Surf's role will be to meet with young victims of abuse from across Monmouth County, twice a week, at the Child Advocacy Center, as the MCPO offers a new kind of therapy in an effort to help lessen a victim's anxiety and in some cases help them to open up to help investigators solve certain crimes.
"Our Child Advocacy Center is meant by design to offer a warm, welcoming environment for our very most vulnerable crime victims as they recuperate, and Surf's arrival here brings that to another level entirely," Acting Monmouth County Prosecutor Lori Linskey said in a statement. "We couldn't be more thrilled to have him join us."
Acting Prosecutor Linskey explains that Surf's arrival in the office comes following two years of planning and discussing ideas with Melissa Boege, Program Director of the Family Growth Program of Monmouth & Ocean Counties for Catholic Charities, who has also worked in the MC Child Advocacy Center and through her work over the years has focused on providing therapy to children, teens, and even adults since 2014.
In 2019, the California-based nonprofit group Canine Companions, placed Surf with her permanently.
"The children I work with have expressed ongoing enthusiasm about working with a facility dog, and have talked extensively about how the dog will help them feel better, talk about difficult things, and feel comfortable in therapy," Boege said in a statement. "It's incredible to witness – children who were previously shy, anxious, disengaged, and defiant become interested, engaged, enthusiastic, open, and connected."
In the last couple of years, Boege has brought Surf to meet clients at the Family Growth Program's Red Bank location and in visiting with public and private schools across Monmouth County to present "Safety Steps," a series of abuse-prevention workshops.
"Surf has the ideal temperament to perform this unique brand of work – he's naturally calm, nurturing, and reassuring, while also responding enthusiastically to children and adults who prompt him to show a more playful side," Child Advocacy Center Multidisciplinary Team (MDT) Coordinator Debbie Riveros said in a statement. "He fits in perfectly with our Team."
Surf will be busy working with the Monmouth County Prosecutors Office but when he finds the time, he'll keep you posted on social media, so if you want, you can connect with him on Facebook at Facility Dog Surf or Instagram at @facilitydog_surf.
Meet 'Surf', newest member of the MCPO
RANKED: Here Are the 63 Smartest Dog Breeds
Does your loyal pup's breed make the list? Read on to see if you'll be bragging to the neighbors about your dog's intellectual prowess the next time you take your fur baby out for a walk. Don't worry: Even if your dog's breed doesn't land on the list, that doesn't mean he's not a good boy--some traits simply can't be measured.