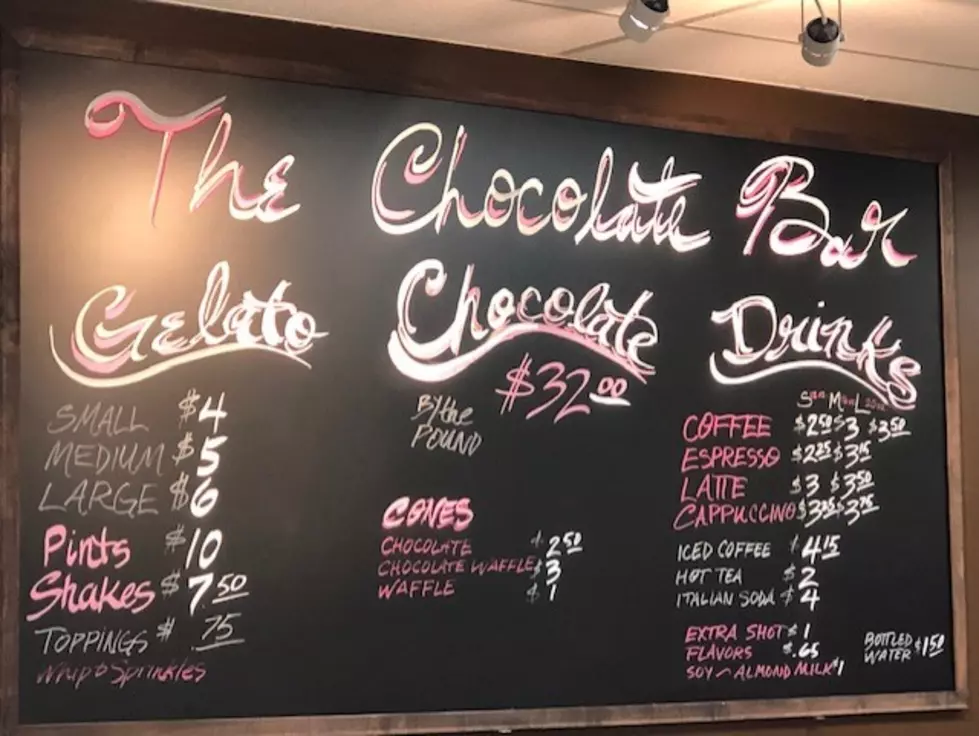 New Gelato/Chocolate/Coffee Shop Comes to the Jersey Shore
The Chocolate Bar
This new family-owned business is brought to you by a local couple and it is fabulous!
The Chocolate Bar, originally located only in Westfield for the past 16 years, has now come to Little Silver!
And I found it by accident! Someone had told me there was an ice cream parlor in the Luigi's Pizza shopping plaza at 78 Oceanport Ave. (near the Mercedes dealership) but when I went to explore, I instead came across this brand new Chocolate Bar which is even better than 'just' ice cream!
The owners must have thought I was stalking them as I tried to peer inside the windows before they officially opened, but now I have the (literal) scoop for you:
Mindy and her husband, Neil, are the owners of this new shop (as well as the original shop in Westfield -- this is a family-owned business and NOT a 'chain'.)
Neil personally makes all gelato from scratch (OMG!!!) and hand dips all the chocolate covered treats. AND... they even offer delicious sorbets which are dairy free/vegan!
AND...they serve Jersey Shore Coffee Roasters coffee and make amazing espresso drinks. Another must-try: Their signature hot chocolate (but of course!)
Mindy runs the day to day operations of the Little Silver store, while Neil overseas their Westfield location.
So why did they choose Little Silver as a new location? Well,  because it's Mindy's hometown, and because Mindy and Neil live in Shrewsbury. (The reason they started in Westfield is because that's Neil's hometown.)
The Chocolate Bar in Little Silver is open 7 days a week from 1 pm - 9pm.  The doors are now open so come right inside (mask up, please) to order or, if you are more comfortable, call ahead and they are happy to bring your goodies outside upon request.  They have ample, covered seating right outside with nice tables and chairs. So you don't have to worry about sun beating down on you or rain, which is a bonus. Parking is located at the back of the shop.
Eventually they will have indoor seating to include bar stools at the Chocolate Bar to watch Neil dip the goodies right before your eyes! it's quite a show and your family will love it.
The Chocolate Bar sells individual pieces, ribboned boxes and customized platters, which all make great gifts or to bring to a party.  They take special requests, and will dip anything you want.
FUN FACT: Neil once dipped an engagement ring (including the box) for a customer!!!
There are so many yummy things to try, including pretzels, Oreos, marshmallows, toasted coconut and sour patch kids, along with brownies and Rice Krispie treats.
If you're looking for healthy options, they will soon have all kinds of dipped fresh fruit like strawberries, blueberries, kiwi, banana, pineapple, and oranges. They even fresh-roast almonds, pecans and cashews for their turtles and almond bark.
And The Chocolate Bar always has 24 flavors of gelato for you to choose from (flavors rotate), and will take special requests!
I can't wait to go back and try everything :)
Welcome to the neighborhood, Mindy and Neil!
You can follow The Chocolate Bar of Little Silver on Facebook by CLICKING HERE.
Enter your number to get our free mobile app
5 Reasons To Download The 94.3 The Point App