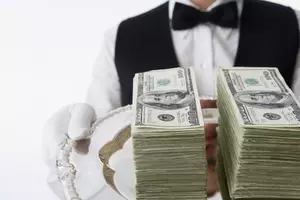 New Jersey Celebrity With Highest Net Worth
ThinkStock
We have some big New Jersey celebrities who make a lot of money, but the celebrity with the highest net worth may surprise you.
I know that 4 names immediately came to my mind, an maybe yours too, but none of them top the list. Let's check on the most obvious names...
Not Jon Bon Jovi... although his net worth is $410 million.
Not Jack Nicholson..he's worth $400 million.
Not Meryl Streep...her net worth is $100 million.
Not Bruce Springsteen...he's got a net worth of about $500 million.
So, if it's not those celebrities, than who? Well, according to Yahoo! Finance, the celebrity with the highest net worth from New Jersey is magician David Copperfield, who's net worth is a over $1 billion!
I bet not even David Copperfield could make that much money disappear. His actual net worth for 2020 is $1.2 billion according to Wealthy Persons. Copperfield was born in Metuchen and attended Metuchen High School.
Copperfield's shows at the MGM Grand in Las Veas alone bring in $60 million annually.
Enter your number to get our free mobile app
More From Monmouth & Ocean Counties