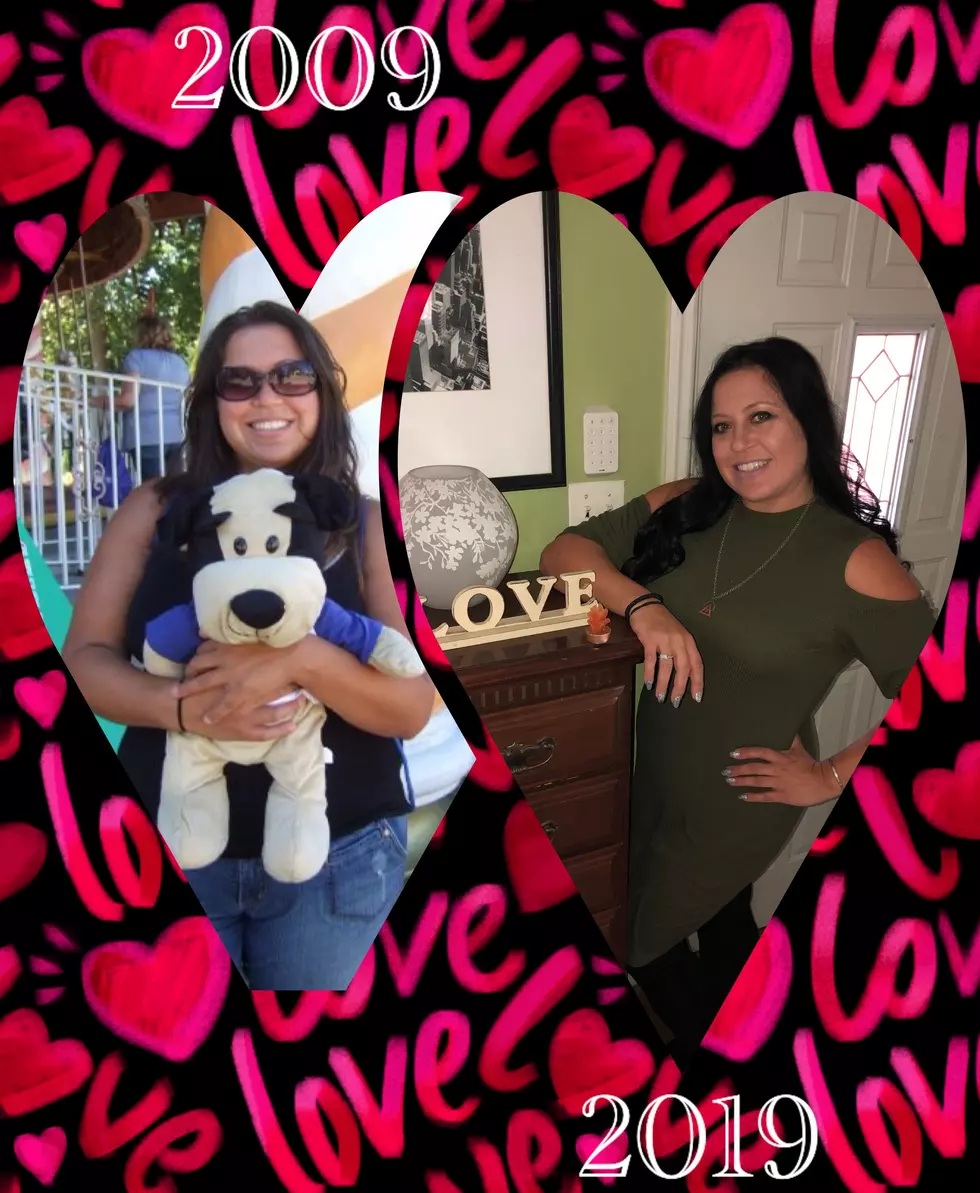 10 Years In The Life Of Jazzy
Jasmine Rodriguez - Townsquare Media
Wow we are entering an entire new decade tomorrow! It is so hard to believe 10 years have passed right on by. So, I got to thinking, what were some major events that happened in my life over the last 10 years? There has been so much that has happened in my life as I am sure you the reader can relate. I started going through photos just to give me an idea of what I would like to share with all of you. Before I do that though, I would like to take the time to say that it is not what we have done or been through that defines us, it is how we handle it and grow from our life experiences that define who we are. I have made many mistakes, I have had much tragedy happen in my life, but one thing I can say is, I never gave up!
Now let's see some exciting things that I got to experience over the last 10 years!
This was the year I met Kelly Rowland at a concert and told her that one day I was going to have my own radio shift one day! At that point I was working at our sister station as a producer/ board op/ lead promotions assistant and only had dreams of being paid to be behind the mic. Sometimes you just have to speak your dreams into existence! Hey Kelly, I am ready for my interview now!
This was a fun year working for our sister station! Real Housewives Of New Jersey's Caroline Manzo had a brief stint on the air and of course whoever was in the building was filmed. With that being said, never in a million years did I think I was going to be filmed braiding my Promotions Coordinator Cynthia Carway's hair. Who knew a few years later I would actually have my cosmetology license?! LOL Good times! Once again speaking things into existence!
This year was pretty cool. I finally got my dream job at a different radio station. I also was a part of my friend's music label launch. My son Cali Tha Chef began his real interest in the music industry by interning at the age of 14 for the 418 Music Label. He began teaching himself how to make his own music. Continue reading and you will see why this is an important moment in my life.
Wow this year was a dream come true for me! Not only did I land my job here at 94.3 The Point, but I attended my very first Winter Music Conference in Miami with the 418 Music Label. While I was down there, I met some really major people in the dance music industry. Robin S, the legendary Stonebridge, and (OMG) Crystal Waters! I kept it professional but inside I was screaming like a crazy star struck teenager! It was an experience I will never forget! I also became a grandma this year!! I love my Lucy Bug so very much! She is such a mini me!
I was going to try and keep this all positive but 2014 was the absolute worst year of my life. My fiancé of 12 years died at the hands of an institution. I cannot get into details due to a gag order in the lawsuit I had filed. Anyway, this situation has affected my entire family. I went through such hell that first year. Depression, anxiety, PTSD from the situation. With that being said I also filed a wrongful death lawsuit on his behalf. I still suffer from daily, but I have kept holding on and continue to fight through the loss for the sake of my children, grandchildren, family and friends. Without them I wouldn't have got this far!
This year I achieved a major goal. I had started Cosmetology School in September of 2014 and had my license on New Years Eve of 2015! Crazy how I went from being caught on camera doing hair in 2011 to now having my license!
My younger son Nico began playing Pop Warner here at the Jersey Shore. It was the first year for Berkeley Township to have a Pop Warner team and wouldn't you know, the Berkeley Junior Golden Eagles won the Championship that year?! The whole team even received a key to the city from the Mayor! How exciting!
This is the year I got to knock off some things on my bucket list. Our case settled in court and I was free from that stress. While on a trip to Florida, I was able to fulfill one of my lifelong dreams. I was able to sit 11 rows back behind Homeplate at Tropicana Field to see my Yankees play. 11 ROWS BEHIND HOMEPLATE!!! I was like a little kid at Christmas! Dream come true!! I just wish I was able to afford to do that at Yankee Stadium…ONE DAY!!!
This year started off terrible. Major news story with the death of Steven Kologi, his wife, daughter and father's companion all killed by his own son. I could not wrap my head around any of it. With that being said, those deaths brought a community together. The City of Long Branch not only mourned the losses, but also came together to hold charity events to raise money for the remaining family members. During the summer I was hired to help my good friend Big Joe Henry to assist him with "The Big Joe Henry Variety Show" that took place every Wednesday in the summer right on the Boardwalk in Seaside Heights! I also have always wanted all my life to get a game ball from the NY Yankees. I took my son Nico to the Yankees Phillies game and fast forward to the last ball of the game, it ended up in my son's hands! That year ended in the most amazing way for me though! I got to not only meet Pauly D, but I got to join him, Michelle (former co-worker) and his business associates for dinner…AND…got to go see him spin where I was allowed to go up on stage with him and get photos! So much fun! Dream Come True!
This year I had many ups and downs but let's stay with the ups! At the beginning of the year I became a grandma again! CJ was born and he looks just like my son! I love that little guy! A few months later, I told my story about my surviving domestic violence on a podcast called "B*Inspired". Then I was invited to help Big Joe again, so of course, The Lovely Jasmine hit the stage with Big Joe, Pat Guadagno and the Best House Band in North America with occasional guest Bobby Bandiera. What a great summer in Seaside! The weather threatened to cancel many of our shows but we only cancelled 2. Mother nature held off her fury for us! The most exiting thing that happened for me this year, was hip hop artist, also my son Cali Tha Chef asked me to be his manager. With that being said I was able to get him a few bookings which included opening for hip hop artist Jadakiss. I have also booked him for 3 shows in January 2020 to open for the OG of Hip Hop, the one and only Snoop Dogg!
So there you have it! 10 years of many ups and downs, but through those downs I kept on going. For the record, I didn't put everything that happened, just the most influential things because I am hoping that one of these day's I can actually start writing my book. I hope you all have an amazing decade coming! Happy New Year New Decade!!!
Here are some pics of some of my adventures over the last 10 years!