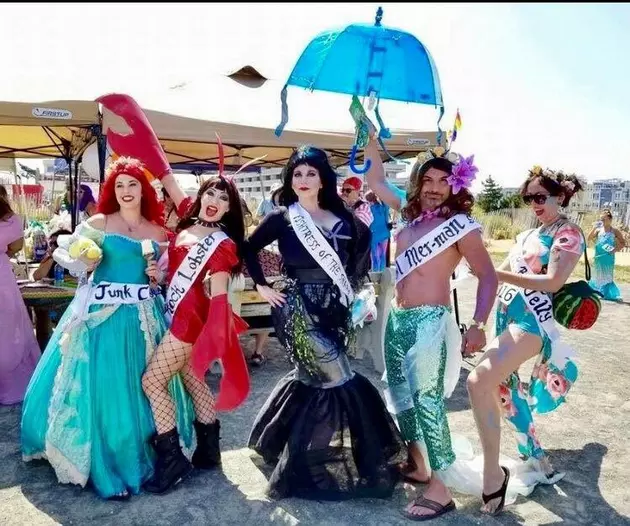 Asbury Park Promenade of Mermaids is this Saturday
(Photo courtesy of Jenn Mehmaid)
Mermaids! Pirates! Sea Creatures! It's time for the Fourth Annual Asbury Park Mermaid Parade.
The Promenade of Mermaids hits the boardwalk this Saturday, June 30th. This is a family-friendly, fun event. So grab your friends and your kids and, whether or not you want to dress up as sea creatures, come out to see those that are!
You will see the most elaborate costumes from pirates to sea horses, shellfish to jelly fish and, of course, mermaids!
If you want to walk in the parade and be eligible for the costume contest prizes, registration begins at noon. If you just want to enjoy the parade, it kicks off at 2 pm. Here are the details:
Promenade participants can register for $10 with a portion of the proceeds dedicated to Rescue Ridge. There will be prizes for best costumes for all ages.
But if you're just there to watch, it's FREE, and there will also be craft vendors at the Asbury Park Yacht Club on the boardwalk beginning at 10 am.
For those registered, prizes will be awarded for best costume and runner-up for adults ages 15 and up, as well as 1st, 2nd, and 3rd prizes for kids 14 and under, PLUS many other categories. The judges this year include those who have been in the Promenade since the beginning and have won costume prizes themselves so they know what it takes!
And wait 'til you hear the party band that will be providing the music, The Gypsy Funk Squad!
The parade begins on the boardwalk across from the Stone Pony at 2 pm.  It will proceed north along the boardwalk to Convention Hall before turning around and returning to the base tent where the judges will announce the prize winners.
Judges will also crown a King and Queen for the day!
The Fourth Annual Asbury Park Promenade of Mermaids is made possible by the generous support of the Marilyn Schlossbach Group (Langosta Lounge, Pop's Garage, Lightly Salted Surf Mercado, Asbury Park Yacht Club, Catering by Marilyn) and the City of Asbury Park.
AND CHECK THIS OUT: The Promenade of Mermaids is holding a Family Friendly Swim on Sunday, July 1st, and the Asbury Hotel from Noon - 4 pm!