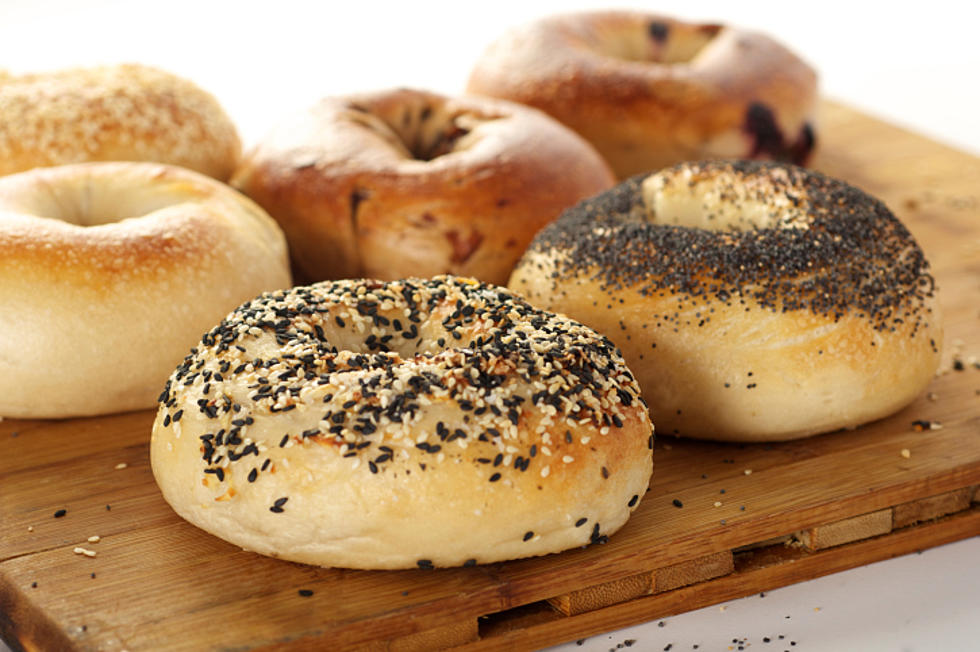 Home of the "Jumbo Bagel" – Popular NJ Bagel Shop Now Selling At-Home Kits
Getty Images/iStockphoto
The Jumbo Bagel is something I've never seen or heard of before I stepped foot in O'Bagel in Hoboken. OMG, delicious.
The Jumbo Bagel is a bagel, just larger, to be shared with friends. It's their signature 30lb. Jumbo Bagel and of course your choice of toppings.
My girlfriends and I love going to Hoboken for shopping and to hang out with some friends, and one of our favorite spots is O'Bagel on Washington Street. So, when I heard about their NEW at-home kits, I was so excited.
O'Bagel is known for its crazy bagels, like its tire-sized bagels that feed 20 people. Their regular-sized bagels seem to be bigger, too, than the norm. They are truly delicious.
The at-home kit is a packet that makes six plain normal-sized bagels. You can buy a packet that makes one jumbo bagel, as well. The kits only need water to be added to start making the bagels.
O'Bagel has several stores in New Jersey. Two locations in Basking Ridge and Stirling and Hoboken. It's a family business and they are excited to share their family recipe with the world. A quote from them, according to nj.com, "Enjoy making these delicious homemade bagels while creating new memories with your loved ones."
The homemade at-home kits take between 60 and 90 minutes to make and it's the same recipe that O'Bagel has been using for years.
A bagel mix bag is $9.99, according to their website. You can get seasoning with your bagel. The Baking Kit comes with two bags of the mix and two seasonings for $25.99. Click here for everything you need to know about the at-home mixes from prices to merchandise. I do have to tell you, I just bought the O'bagel mix, I can't wait to make them.
Listen to Shawn & Sue mornings on 92.7 WOBM and download our free 92.7 WOBM app.
9 REASONS NOT TO LIVE AT THE JERSEY SHORE