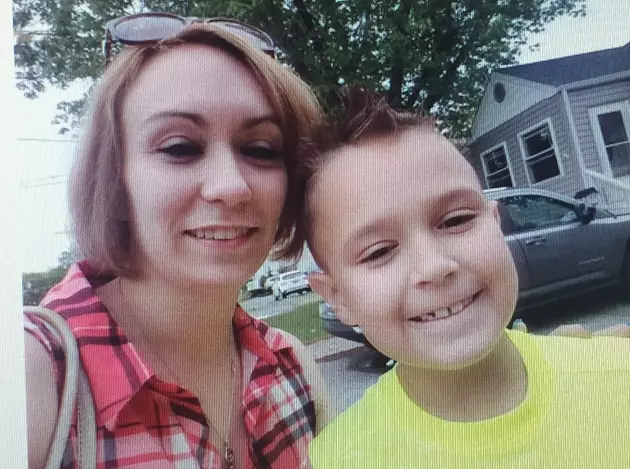 Old Bridge Boy Just Wants to See His Daddy Before He Deploys for Another Tour of Duty
(Paula and her son Kevin. Photo courtesy of Paula. Her husband (Kevin's dad) cannot be pictured for security reasons.)
The mom of an 8-year old named Kevin is beside herself after Expedia told her how much she would have to pay to take her son on a DOMESTIC flight to see his Daddy before he deploys for his third tour of duty.
Here's Kevin's mom's story about what she had to go through:
Dorothy's husband is about to deploy overseas for close to a year. He had to leave home in Old Bridge and head off to another state to await his deployment (we can't give details in respect of military security.)
As soon as she was told of the deployment orders, Dorothy bought herself, her little boy Kevin, and Kevin's grandma tickets through Expedia so that he could go see his Daddy one more time before he leaves the country.
But then the military changed the deployment date by 5 days for security purposes. So Dorothy contacted Expedia and explained the situation. Only instead of making an exception to whatever rules they have in place about changing flight dates...Expedia told her she would have to pay an extra $2500 for another package.
She had already paid $2600 for the original booking when she found out her husband was being deployed, so now her bill would be over $5000 just so her son could see his Daddy one last time before he left. To add insult to injury, Expedia cancelled her car rental and said they could not rebook it for the new date, so Dorothy needed an extra $300 to book another rental car.
Dorothy is looking at a bill of over $5,000 just to get her child to another state within the continental U.S. because her little boy's heart set on seeing his Daddy before he leaves to defend and protect our country.
Dorothy says Expedia was supposed to credit them with the original airline tickets but instead they cancelled them and rebooked a whole new order, then refused to give her any type of refund. United Airlines tried to help Dorothy in every way possible but they couldn't because Expedia would not release the tickets!
Kevin's Daddy, who is on his third tour of duty, was born and raised in Monmouth County and has been serving in the military for 9 years. Kevin is having a hard time dealing with the fact that his Daddy has to leave, so his mom simply cannot find it in her heart to disappoint him by telling her little boy, who was looking forward to a trip to see Daddy and say goodbye, that they can't go. It would have crushed him.
As any mom would do for the sake of her child, she begged and borrowed the money to  pay Expedia their exorbitant fee in order to not let her son down.
My heart goes out to Dorothy because of the unfairness of this situation. I would have done the same thing in her shoes and borrowed the money...but this family should be uplifted and supported and THANKED for their service to our country -- not punished financially when a father/husband is about to risk his life for us all.
More from 94.3 The Point: