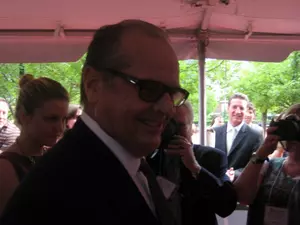 The Top Three Movie Quotes From New Jersey Actors
Jack Nicholson (Lou Russo, Townsquare Media)
Yesterday we told you that 6 of the top 100 all time movie quotes were uttered by New Jersey actors, and we asked you to guess the top 3.
Were you able to get them? Let's start from the beginning. We told you about The Stacker list of the Top 100 Movie Quotes of all time, and that 6 of them were lines delivered by New Jersey actors, and we even gave you three of them...
#94 "I feel the need for speed" Tom Cruise, Top Gun
#91 "Who's on first?" Bud Abbott, The Naughty Nineties
#68 "Here's Johnny!"  Jack Nicholson, The Shining
There are three more quotes from Garden State actors on the list and all of them ranked higher than the ones above. Were you able to guess them? Here's a hint...one actor was responsible for two of the 6 quotes.
Are you ready for the answers? Here they are along with their ranking on the list...
#57 "Greed, for lack of a better word, is good.", Michael Douglas, Wall St.
#39 "If you build it, he will come.", Ray Liotta, Field Of Dreams
#29 "You can't handle the truth!", Jack Nicholson, A Few Good Men
And for those of you who have been trying to guess the overall top movie quote according to this list, it's...
#1 "Frankly, my dear, I don't give a damn.", Clark Gable, Gone With The Wind.
So congratulations to Jack Nicholson for having 33% of the top movie quotes ever delivered by a New Jersey actor, according to The Stacker.
Enter your number to get our free mobile app
More From Monmouth & Ocean Counties