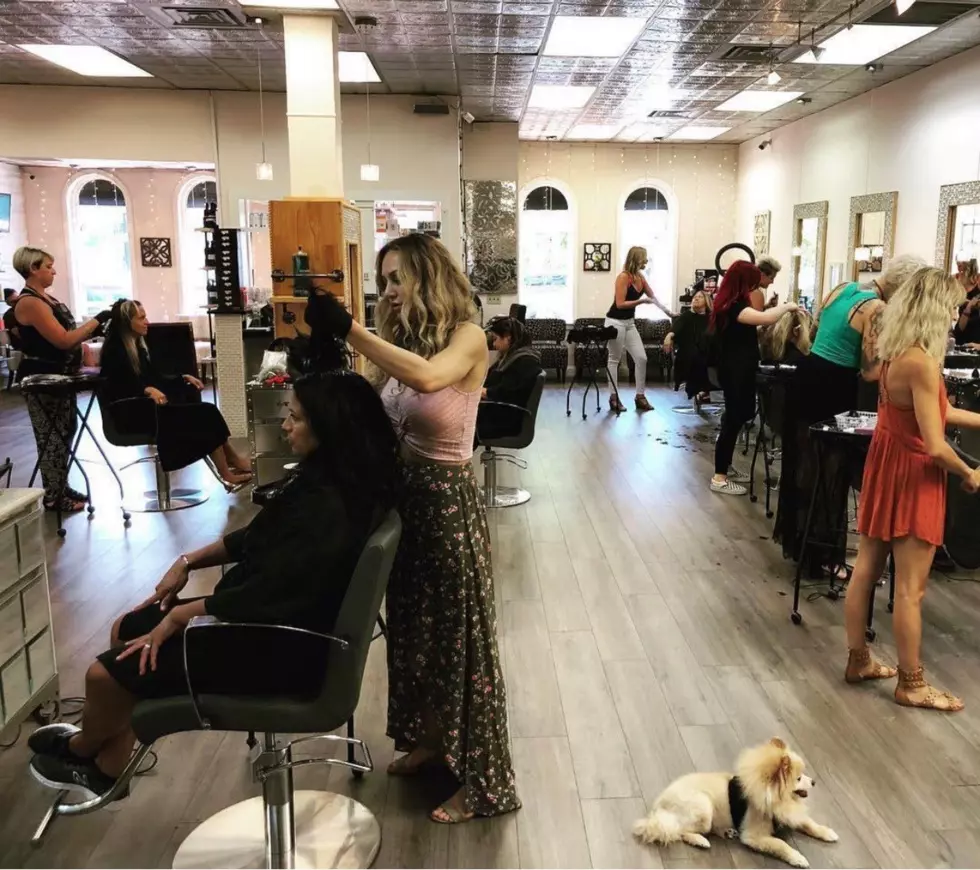 Curbside Hair Color in Belmar after Salons Forced to Close
(Lea DeLoy at her Styling Co Hair Salon, photo courtesy of Lea.)
You can no longer go out to get your hair colored, and local salon owners and stylists all around our area are now out of work and will struggle to hang onto their businesses. Here's what one owner has to say, and her innovative way to help you.
When I asked Lea DeLoy, owner of Styling Co. in Belmar, how we can show our support now that we can't come in for hair color, she surprised me with what she will be offering during this crisis:
"We can weather this storm for the time being. We just want to see all of our clients as soon as we re-open and we will put in as many extra hours as needed to get everyone's missed appointments in! We will need you to return when we open. In the meantime, I will be on premises at Styling Co. offering Curbside Color. That means that I will custom-mix our clients' root colors or base breaks, add a color brush and gloves to the package, and then all you will have to do is pick it up and, when you are ready to color your hair, mix it at home." You can DM Styling Co (
@Styling Co on Instagram
) for details, instructions, and pick-up hours. You can order products, too. Or if you don't have Instagram, you can text Lea at 908-330-9069."
Styling Co. has a huge following of clients up and down the Jersey Shore. Here are her words:
As a small business owner I am used to having to make tough decisions and having to handle many crazy things as they are thrown at me  But this was something that I don't think anyone could be prepared for, or figure out how to handle completely correctly. What are the right decisions? I realize the importance of keeping our employees and community healthy, but how do you, as a boss, tell your employees they are not allowed to work?
Last week it was our decision to close the salon. This made it extremely hard because it wasn't yet mandatory, and especially because of having no idea when this crisis might end.
It was also hard to see many of our competitors stay open.  This is not me being judgmental, but made me question my decision even more.  Why didn't salons have a clear decision from the beginning? When all salons finally heard it announced that there would be a mandatory closure, it was almost a relief.  Everyone's financial and health decision was no longer in my hands.
Honestly, if you ever want to know what's going on in your community, ask a busy stylist.  They have so many people in their chairs, literally telling them everything. We stocked up on Lysol and even ordered a commercial air scrubber months ago to keep our air clean when we started noticed how many people were sick and coughing even back then.
There is so much uncertainty going forward.  If there was a timeline, we could plan accordingly. How long can we sustain this? We will most likely have to do things differently going forward to be able to do business and be safe. We all have learned many lessons from this.
At our salon, our stylists have been in touch constantly.  We miss each other, we miss our clients, we will never complain about another workday again! We will never take for granted standing long hours on our feet, being over-booked, doing a million foils, or getting out too late!  We miss our community, or friendships, and drinking coffee and all of our conversations that lighten our day in our break room!! We miss the "normal" and wonder what the new "normal will be.
My heart goes out to every small business owner who is suffering or having to close their doors and wonder how long this crisis will last and if they will be able to sustain and endure in order to reopen."
Lea DeLoy
Hairstylist, NYC freelance artist, hair extension specialist, luxury bridal, fashion editorial, and owner of Styling Co. Hair and Make-Up Studio NJ.
@hairbyleadeloy
www.hairbyleadeloy.com
@stylingco
www.stylingco.com
Lea, I am sending you and all of your wonderful stylists all of my love, support, and prayers for a future of prosperity, a lifetime of good health, and hope that this passes quickly.  -- Liz Jeressi
Enter your number to get our free mobile app