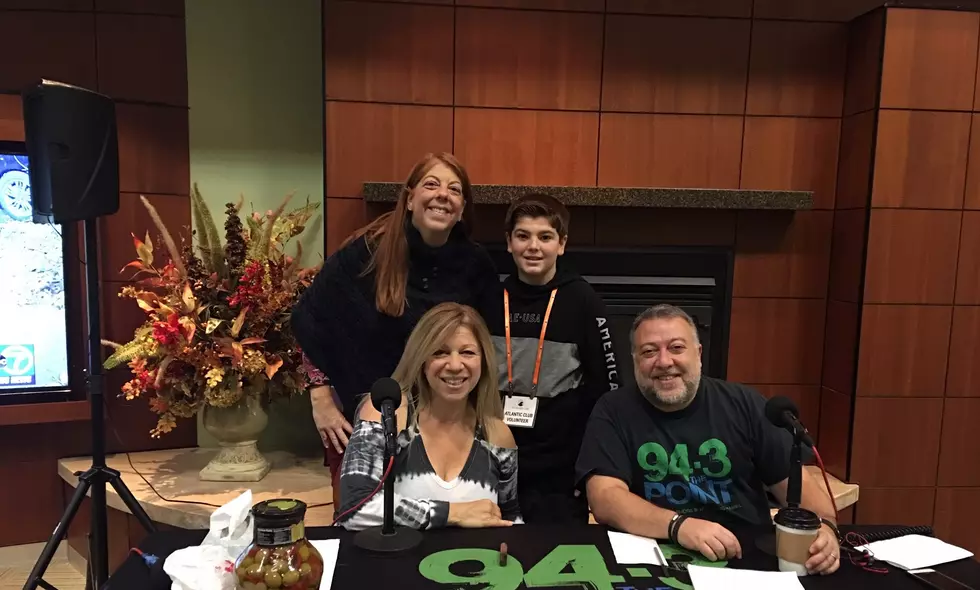 Drop Off Turkeys at The Atlantic Club in Manasquan/Red Bank
We have enjoyed many, many years helping The Atlantic Club collect food for the holidays. Kristin (pictured here with her son) and the gang at TAC are still collecting your turkeys and trimmings this season even though we can't be there due to the pandemic.
It pains me that this will be the first year that (due to covid) we won't be doing our morning show live from The Atlantic Club on the morning before Thanksgiving. But that doesn't mean you can't help The Atlantic Club collect food for Fulfill.
From now until Nov. 25th, The Atlantic Clubs in Manasquan and Red Bank are helping to fight hunger by collecting your frozen turkey donations for Fulfill (The Foodbank of Monmouth and Ocean Counties.) Since these fitness clubs both have kitchens with freezers, they are able to do what many other places can't, and collect more than just non-perishables.
You don't have to be a member to stop by and drop off those turkeys and fixings.
The front desk just inside the main entrance of both clubs will collect frozen turkeys up until Nov. 25th, (the day before Thanksgiving). Even FRESH turkeys can be dropped of on the morning of Wednesday, Nov. 25th until 9:30 am in Red Bank and until 10:30 am in Manasquan before Fulfill's truck arrives to collect everything.
So check those grocery store receipts to see if you are entitled to a free turkey that you don't need for yourself that you can pick up and donate for a family in need.
In addition to those turkeys, please feel free to bring all the fixings if you can: Stuffing mixes, canned gravy, instant potatoes, canned fruit, canned and dry soup, canned beef stew, canned ravioli, pastas, and cereals.
So with the holiday season quickly approaching, please remember those who have lost their jobs due to the pandemic or those who have had to close the doors of their businesses and have lost their livlihoods. Pull up to The Atlantic Club and show that you care. Let's make sure all families are fed with a nice meal for Thanksgiving and Christmas.
The Atlantic Club in Manasquan: 1904 Atlantic Ave., 732-223-2100
The Atlantic Club in Red Bank: 325 Maple Ave., 732-219-5333
Follow both clubs on Facebook for all the latest info HERE.
Enter your number to get our free mobile app
READ ON: Here's how to apply for rent relief