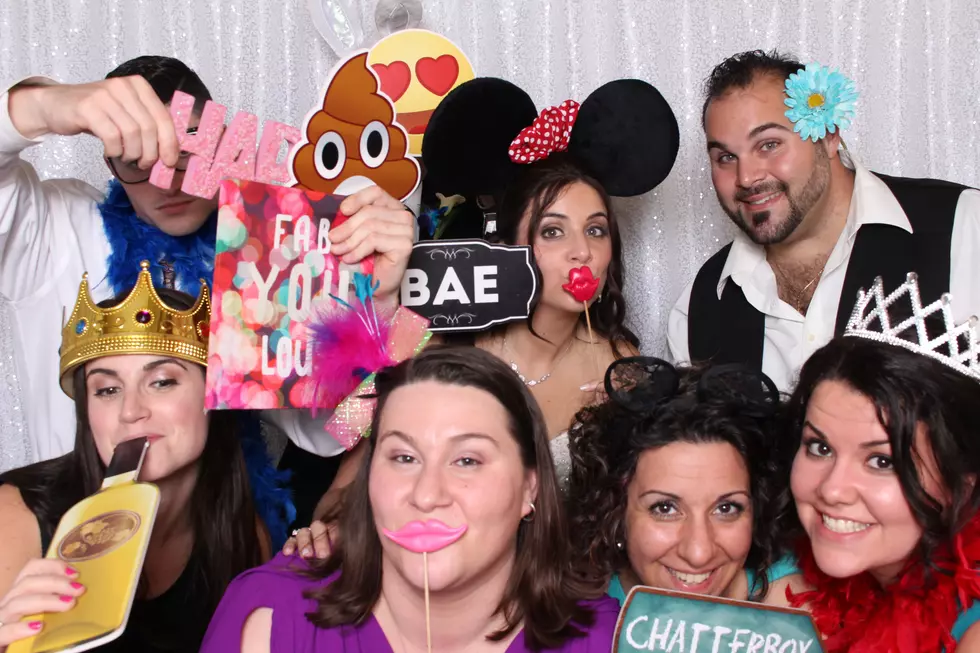 Jersey Shore Wedding Photo Booths Go High Tech
Look how many people you fit in one picture! So fun! (Laurie Cataldo/Selfie Snapshots)
When Duzzy and I started planning our wedding, we both agreed the important thing was that the food and music be amazing, since that's what people really remember.
In our case, there was a third thing that our guests raved about long after the reception ended: our high tech photo booth!
Truthfully, I didn't even intend to have a photo booth, but I happened to attend a bridal show last year and saw one that was so unique, I just had to have it at the wedding.
Normally, a photo booth is kinda fun, but let's be honest -- it's a small, cramped space where two people (maybe three) can squeeze in and take a few pictures, and then get one copy of the film strip style prints to take home. (Have you ever tried to Instagram a photo booth picture? Cuz I have, and it looks lame.)
The new photo booths are definitely way more high tech! There are a lot of different options and companies available for these high tech booths, but the one I came across is Selfie Snapshots.
The thing that caught my eye is that not only do you get a physical print of the pictures, but you can upload them directly to your social media accounts, e-mail them to yourself, or text them to you or anyone else! GAME CHANGER.
Not only that, but these high tech booths are thinking outside that tiny box, and I don't even know if I would call them 'booths' at all. I've seen them both open-air and curtained off, and with enough space to fit upwards of 10 people!
I'm clearly not the only one who thought it was cool, because honestly, our guests were in there taking photos all night and coming up and telling us how fun it was.
I don't know if it's the props, the digital/social aspect, or the fact that you can get a whole group in one picture, but it wound up being one of the best parts of our wedding! (I also loved that at the end of the night, they gave us a scrapbook with a copy of all the pictures in addition to a flash drive of the photos too!)
Plus, you can customize both the backdrop and design of the printed photo, and whether you want them as the typical strip of photos, or on a 4x6. It's seriously personalized!
They're a great fit for a wedding (or Sweet 16, bar/bat mitzvah, graduation, whatever!)
As for my personal experience with a high tech photo booth, I really can't rave enough about the girls at Selfie Snapshots. They provided all the props, gave suggestions for the backdrops and print designs, and were insanely easy to work with! You can reach them at info@selfiesnapshots.com or at 973-714-4631. So cool!