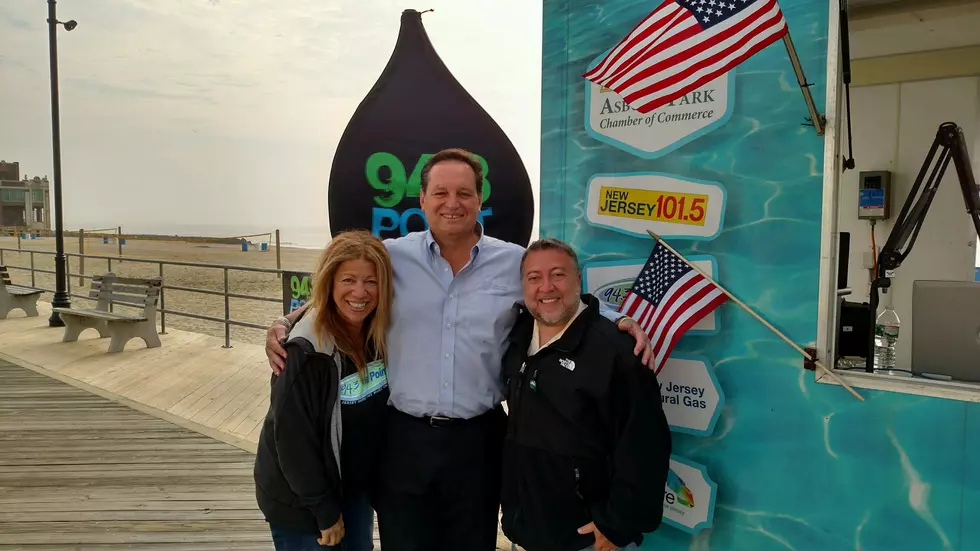 Meet the Man Lou & Liz Co-Host with in Asbury Park!
(Lou and Liz with Tom Hayes from NJNG. He is the reason we get to be in Asbury each Friday! Photo by Lauren Bigica)
You are always hearing about our friend and honorary Co-Host: Tom Hayes from NJNG. He is the reason that New Jersey Natural Gas sponsors a mobile studio for us every Friday morning in the summer at the Asbury Park Boardwalk. Here's what you need to know about Tom.
I came across the most wonderful description of Tom Hayes from NJNG, and I will quote it below, but first let me say that I consider Tom Hayes to be among a very small group of men who are not only the most upstanding citizens I know, but who are the best role models for our teens who are about to become adults in a world that isn't always easy to navigate.
As a person, Tom Hayes is an incredible husband, father, co-worker, loyal friend and joyful giver (of both his time and support) and anyone whose life he has touched will nod their head in agreement.
I thank you Tom, for your friendship and for including Townsquare Media in the causes in our community that are nearest and dearest to your heart. We will do our best to inform our radio listeners of what they can do to help those most in need during our Friday morning shows live from the Asbury Park Boardwalk this summer.
Now...here's a little more about Tom Hayes:
Profile: Tom Hayes -- A Man with a Vision. "Blessed" --This single word sums up the feelings  of a man and a community that benefits from his tireless philanthropic endeavors. Tom Hayes, director of customer and community relations at NJNG, is motivated  by the ongoing needs of others. During his 20 years with NJNG, Tom has dedicated countless hours to ensure that the community where he lives and works continues to flourish.
Tom's earliest memory of volunteering dates back to grammar school where he helped raise money for UNICEF. And he has never looked back. Tom has the pleasure of working with hundreds of organizations on an annual basis. And of those, he serves as chairman or committee member of over 20 not-for-profit organizations.
Tom says "Whether providing financial support, supplies, or another form of assistance, the ultimate goal of NJNG's involvement is to improve the quality of life for everyone." Tom is a vital member of the NJNG team and devotes himself above and beyond work hours to making a difference. From a company perspective, Tom believes "It is an important opportunity to continue NJNG's longstanding tradition of being a true community partner working in the trenches alongside hundreds of non-profit agencies."
Whether you volunteer to fill a need or because it makes you feel good, giving is simply the right thing to do. That is the message from Tom... and wise words for us all.