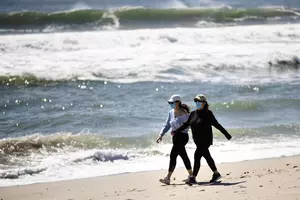 Update – Where New Jersey Ranks For COVID Restrictions
AP
The COVID-19 pandemic continues to dominate headlines, with different restrictions for different states. So how do New Jersey's restrictions rank against all the other states?
The folks at WalletHub have been tracking coronavirus restrictions in each state, and ranking the states to determine which states have the most restrictions in place. The results of their latest rankings have been released.
In the most recent data, New Jersey has been named the state with the 4th most COVID-19 restrictions in the nation. Here are the specific categories and the Garden State's rank.
Remember, the study was to determine the states with the fewest restrictions, so the state with the fewest restrictions has a rank of 1, the state with the most restrictions would be ranked 51...
Requirement to wear a face mask in public...31st
Workplace temperature screening...40th
Re-opening of childcare programs...31st
Travel restrictions...44th
Reopening of non-essential businesses...23rd
Reopening of restaurants and bars...38th
These rankings on data available midday this past Monday, July 6th, 2020. You can review the methodology used to determine these rankings at WalletHub.
There is an odd combination of a strong desire to get businesses open and people back to work and things back to some type of normal, and the reality that, even as New Jersey data has been encouraging, there hasn't been a lot of positive COVID news around the country.
Let it be a reminder that our hard work as a community has gotten us to a much better place, but there is still more hard work ahead before we can put this virus in the rear view mirror.
Keep working hard and keep taking care of yourself and others, and together we can get to where we all want to be. Done with this pandemic.
Enter your number to get our free mobile app
KEEP READING: Get answers to 51 of the most frequently asked weather questions...