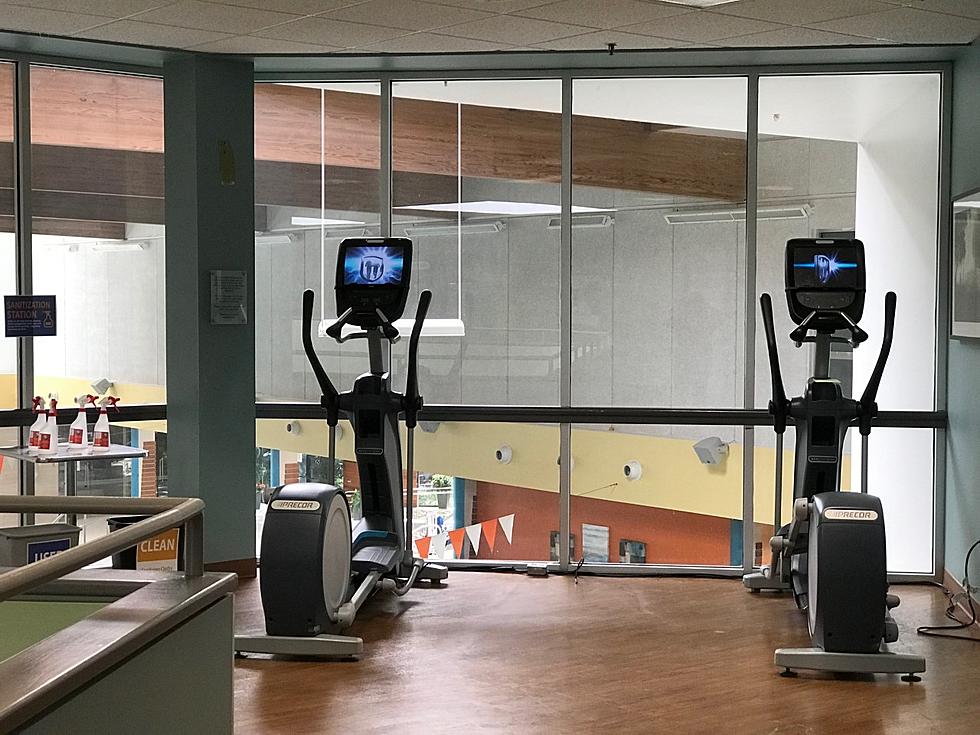 Here's Why Fitness Centers Should Be Allowed to Reopen
(Photo by Liz Jeressi)
Since March 16th when gyms were shut down, it has been very difficult to replicate the same type of workouts that I was able to do in the environment that I most enjoyed. There's a certain energy inside a gym when everyone is there for the same purpose. It's quite motivating.
I met with Kevin McHugh, COO of The Atlantic Club (TAC) at the Manasquan location because Kevin just got back from speaking at a state senate hearing to Governor Murphy about how gyms are prepared to reopen safely after being forced to shut down for nearly 5 months due to Covid-19.(Retro Fitness, Planet Fitness, and other gym reps were in attendance at this hearing as well.)
Kevin explained to me that The Atlantic Club is part of the NJ Fitness Alliance made up of fitness centers, hospital-based fitness clubs, and gyms who have worked, past and present, for the benefit of the fitness community. And right now this organization is fighting for all of our lives. Their message: Gyms are safe The Atlantic Club has, in fact, imposed its own guidelines which far exceed what is required by the state.
I know that, personally, I have lost a lot of ground in my health and wellness lifestyle due to not having access to my fitness center, workout equipment, group classes and personal trainers/nutritionists.  I am among those suffering from the 'Covid-15'  weight gain. I battle depression from both the fear/stress of trying to keep my family safe during this pandemic to the lack of endorphins that helped keep me emotionally and mentally stable thorough workouts on a regular basis. I miss access to the support and encouragement of the experts on staff-- advice on lifestyle and eating right from licensed and certified instructors and nutritionist counselors. Creative, varied classes would keep me from the boredom of my living room floor.
And after months of incessantly hot and humid summer weather coupled with the fear of dehydration (there are a lack of restrooms open to the public since Covid-19, so I can't consume a lot of water on long walks/runs for fear of needing one) I miss the cool, dry environment of my gym.
The Atlantic Club is a  great example of how gyms are preparing to safely reopen.  Here's how:
At TAC in Manasquan, they have completely removed the free weights from their main building and given those who will want to weightlift an entire new space inside their Field House building across the lot. That building now has complete social distancing among weight racks, free weights, etc.
So now the 'main' fitness center consists of circuit-training machines all very much separated by lots of space, and treadmills, ellipticals, and other cardio machines all further than 6-feet apart with plexiglass between levels where you would otherwise be facing someone else on a machine. So now you could, theoretically, have everyone quadruple protected. Here's why:
If everyone wears a mask, is over six feet apart, has plexiglass between them AND is on equipment that is constantly wiped down, before and after each user, with a new disinfectant system that kills all germs (more on that below), you can rest assured that you will be as safe as possibly while doing your workout.
In fact, every employee's main job, upon return, will be to clean and sanitize all aspects of the club  as their top priority.
On the upper level of TAC Manasquan they have taken half of their full-sized basketball court and turned it into a spacious spin room, leaving their usual spin room with only 9 spin bikes so that there is plenty of room between spinners.
And here's how the club will avoid large, cramped classes for spin, yoga, and their usual array of exercise classes. First of all, you will make a reservation when attending any kind of class. PLUS...TAC has added virtual classes that will run throughout the day at their facility so that you can spread yourself out among all hours of the day and not ever have to take a crowded class. (Group exercise room floors will have painted circles so that each person stays within their own circle boundary.)
When signing up for a live class, you will see how many others are in it and then be able to decide for yourself if you'd rather opt for a less-crowded time slot! And with spectacular, professional virtual classes on giant screen TVs with plenty of speakers added for sound (Les Mills, the best!),  it's a win-win. Especially for those who could never make the usual class hours to begin with!
Once TAC is allowed to reopen, they will add some outdoor classes to the lineup, too, for those who prefer to work out in the fresh air, weather-permitting. They will also reopen their pools when the gym is up and running and plan to keep their outdoor pool open until October.
(At TAC Red Bank all of the personal training/equipment has been moved to another building next to the fitness center to free up space inside the main gym.)
TAC has a couple of weapons against Covid-19 in their arsenal. They have incorporated a deep cleaning system using non-toxic cleaning supplements (Viking Pure.) Their air purification system has a unit in every room of the club and field house. They have also purchased electrostatic sprayers that will be used several times a day to sanitize every crevice and vent to keep the air clean. This is the same system used in surgical centers and hospitals...as well as on the space shuttle by NASA!
TAC has already been highly successful in the reopening of their Tennis center and summer camps, as well as Atlantis Prep school (which is already on a wait list for the fall with so many parents not trusting their local public schools to reopen safely or fully.) In fact they may consider offering Kindergarten in September.
Not one person in all of those facilities --staff or member-- has contracted the virus and some parents have even gone so far as to suggest that the public schools take a look at what Atlantis Prep is doing successfully with their littlest students and teachers.
In the tennis center, the balls are cleaned and sanitized EVERY HOUR by the staff. The Milagro Spa (both in Manasquan and Red Bank) incorporate the same sanitizing methods and plexiglass systems of separation/distancing, too.
Kevin McHugh brings up a good point when he talks about the trust that TAC wants to earn from its members. He wants you to walk in those doors and trust that you will be kept as safe as possible while you get back to working on your health through exercise. The way he looks at it, each member will serve as an inspector of sorts, because no one will choose to work out at a facility where they don't feel safe.
Let's face it. Covid-19 may be around for a long time. Our health, meanwhile, needs to be addressed and made a priority. We can't wait on that. TAC and other fitness centers' businesses are on the line and the fate of these facilities depends on being able to reopen. They are not being irresponsible in preparing to open their doors.
So how can you compare responsible fitness club and their members, whose number-one priority is health, to facilities serving food and drinks or holding other gatherings?
Kevin's next meeting with the governor's office is Friday. And I think that perhaps our state officials should take a look at how TAC and the NJ Fitness Alliance is leading the charge to get the whole fitness industry back up and running as quickly as possible. Gyms need to open their doors immediately and are prepared to respect every regulation and safety measure.
If you would like to tell your legislators that you want your gym reopened, CLICK HERE!
Are you ready to get back to your gym?  Have you packed on pounds while social distancing? Has your mental health suffered along with your physical health? We'd love to hear your thoughts.
Enter your number to get our free mobile app
7 Ways To Manage Anxiety/Depression During COVID-19 Pandemic